Save Money By Choosing Reusable Nappies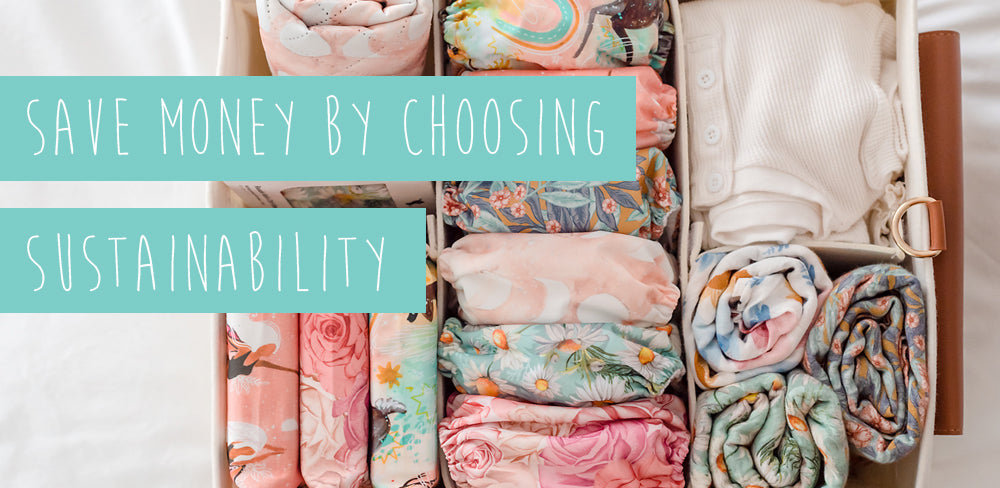 Tips to save money on your household budget
When we talk about savings it has often been in relation to the Environmental impact. But what we don't talk about enough are the cost savings that you will also make when you  switch to reusable products. Investing in good quality reusable products will add up to long term savings when you don't need to regularly replenish these products in your weekly shop. You also cut back on the stress of worrying that you will run out.
Designer Bums Reusable Cloth Nappies help you to cut down costs on basic household expenses.
On average each child in nappies uses 180-240 nappies per month at a cost of over $50 each month. This may  not sound like much but over a lifetime of nappy use it adds up. You can expect to spend anywhere from $2300 - $3000+ on single use nappies per child, if not more. Check out your potential cost savings with our nappy calculator
.
How can you reduce costs and spend less money on nappies?
That's where Reusable Cloth Nappies come in handy. Each Modern Cloth Nappy is initially a higher outlay in cost than disposable nappies but when you invest in good quality nappies you will see the savings stacking up. In comparison to single use products, a 24 pack of Designer Bums Reusable Cloth OSFM Nappies has an initial outlay of $719 and a 36 pack is $999. Check out our range of value packs.
Having Cloth Nappies ready at home means that you don't need to worry about having the next size nappy ready to go. Designer Bums Cloth Nappies are adjustable and grow with your child. And you won't need to budget for this item in your weekly shop. Buying your Reusable Cloth Nappies in advance means that you can tick this item off the list and save money on your everyday shopping list.
Why is quality important when selecting Reusable Nappies?
When choosing to use Reusable Cloth Nappies you want to make sure that you are choosing a Nappy that is going to go the distance and last a good amount of time on the bum (meaning less nappy changes) and that is going to hold up to use by multiple children. Designer Bums Nappies are Gold Award winning premium quality nappies which will last the test of time.
When selecting a Reusable Cloth Nappy check what the inserts are made from to ensure they will last long enough on the bum, and check how many inserts you get with the nappy. Although one insert might get you started, it is not going to hold up to increased output during leaps in growth, and with age. These situations can be frustrating if you have  to go back and purchase more inserts down the track and can cancel out  the savings you might have made by  selecting a cheaper price point at the start.
Designer Bums OSFM Nappies come with two thirsty bamboo inserts which can be folded and moved around the nappy to increase absorbency within wet zones. Being able to fold the inserts means that you can add layers where you need it without increasing the bulk of the nappy. Not only  is bamboo a nice absorbent material, it is gentle on your little ones skin making it a great choice for nappies.
Designer Bums Nappies are a One Size Fits Most Nappy and this means that you can use the snaps on the front of the nappy to customize it to suit your little one. Designer Bums are considered to be one of the lowest profile nappies on the market and many people assume that this means that this means your little one won't have a big bulky bum - which is true but not entirely why we are considered low profile. Our nappies deliberately only have one line of waist snaps. Because of this the wings of our nappies can swivel and sit lower at the front like undies as your little one grows. This means that we need less material for the nappy making them nice and low profile when they are little, and not restricting movement around their belly as they grow.
What are some other easy swaps you can make for Reusable products?
What are people saying about Designer Bums Gold Award Winning Reusable Nappies?
OSFM Nappies
"Great nappy, super trim, easy to fit, bright PUL in fun, hand illustrated prints." - Erin B.
"Love the nappies. They are great quality and quite absorbent. I use them on my 10 week old and they are perfect for this chunky baby. I am able to find the perfect fit with so many snap options."
- Mykaela G.
"I've never looked back! These are by far the best cloth nappies I've used, no leaks, snug fit and no more baby rash! Added bonus is how super cute and fashionable they are! I'm so glad I made the investment in these, just wish I did it earlier with my other 3 babies!!" - Brooke F.
Large Nappies
"Generous fit and perfect for overnights or older kids" - Sallie J
"These large nappies are amazing. We have used specific night nappies and also a tri fold in the regular nappies for our girl but now she's two and holds her wees we needed to replace our stash of night nappies. Along came these nappies and I couldn't be happier. They are super absorbent and make the perfect night nappy. She has so much room to grow into so it doesn't really matter when she is ready to toilet train because these will be with her until she is ready! So so so happy!!!" - Lorissa C.
Further Reading: 
If you enjoyed this article you may also want to check out
A Beginners Guide to Reusable Nappies
where we talk about how many Nappies you need for your stash, how to wash your Cloth Nappies, and how to construct your Cloth Nappies.
If you are new to exploring Cloth Nappies as an option for your family you might want to check out our
Value packs
. Value packs are a great way to build your collection and get your hands on our Gold Award Winning Nappies.