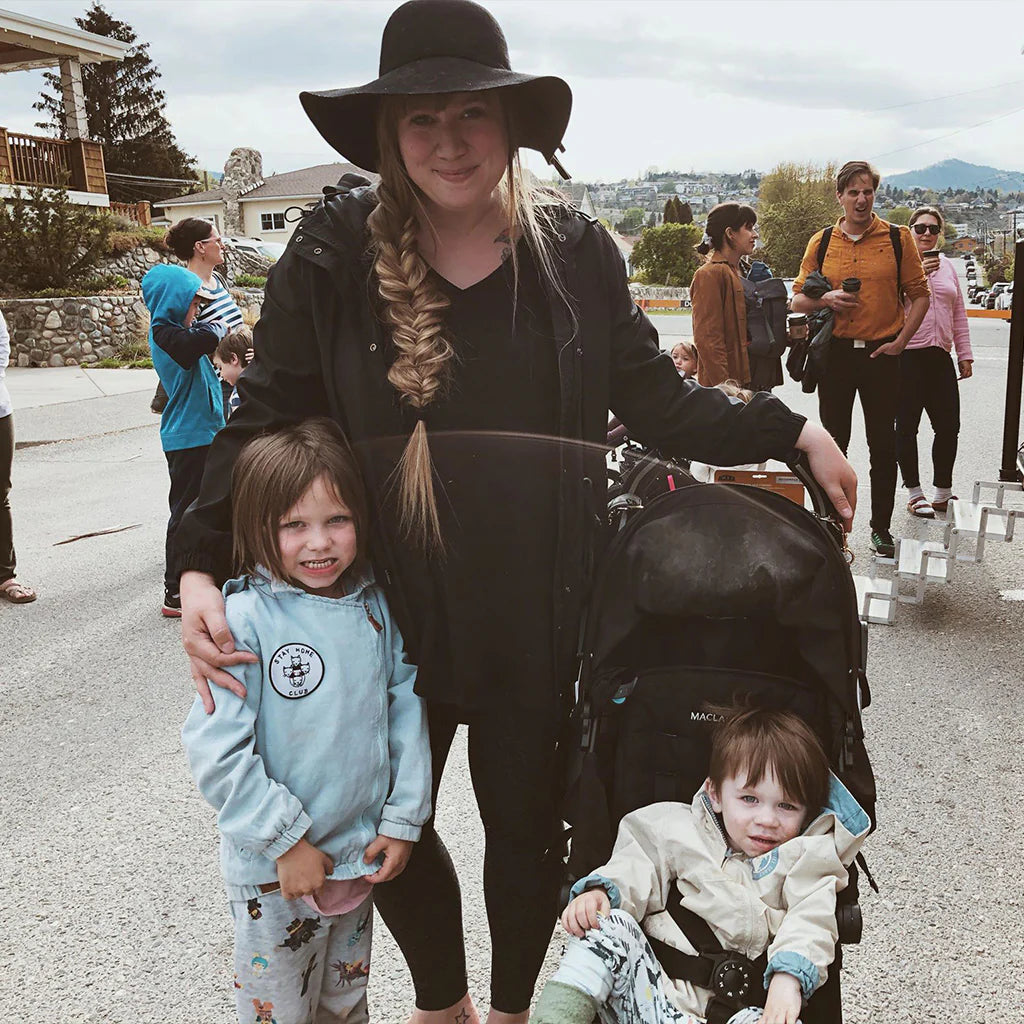 Melissa Charpentier
Melissa Charpentier was always going to be an artist. First realising her love for drawing when a friend gave her the sketchbook that started it all, it took having children to create the drive to pursue a career out of art. That isn't to say that art hasn't been a close companion of Melissa's throughout her life. Largely self taught, Melissa took some formal lessons whilst experimenting with different media and attended university to study fine arts but found more inspiration living life.
Punctuated by the demands of being a mother, Melissa creates the beautiful watercolour designs that we love, from her kitchen table in British Columbia, Canada. A complicated home life tends to keep her quiet online but she diligently takes note of the Designer Bums Facebook chatter, to understand what designs and styles are likely to be popular and to carefully consider requests. The Facebook group is also a great way for Melissa to learn more about the country and culture of the Designer Bums fans. Amongst the things that she has found most interesting have been our blue bees. Sporting the business name Patterns A Buzz, we can understand why Melissa took a shine to these little beauties but we hope that she doesn't judge us too harshly for feeding our children fairy bread.

Taking inspiration from nature, watercolour art is the perfect fit for Melissa. Whilst we occasionally see a piece in marker or ink, watercolour draws her back every time. Avoiding being typecast into a particular style, she prefers to let the subject matter define the approach to a piece of work. Recently, Melissa has also created some empowering art that will be showcased in a postpartum body positivity event. Celebrating 4th trimester bodies, Melissa illustrated and painted nude portraits of women, highlighting the beauty of the mothers' form without glossing over the new truths that become apparent when creating and sustaining a life.

When asked who her major artistic influences are, Melissa is introspective enough to have recognised the professional pitfalls of following other artists on social media. Melissa has stepped away from contemporary artistic influences to develop her own style and path. However, Gustav Klimt will always be a master that she admires.

Melissa is very honoured that her art is in the homes of and being enjoyed by so many families.  She would never have dreamt that her art would reach across the globe. It makes her truly happy sharing the excitement of release night even though working with Designer Bums puts her audience in a completely different time zone. Prior to releases, Melissa feels the anxiety known to many artists before their creations are revealed to public scrutiny. Each piece represents so much time and effort but each reveal results in an enthusiastic response from the Designer Bums customers, which gives joy to her.

Melissa never thought that her art would have such a… functional use. She has now been a Designer Bums artist for over two years. Meeting Carla via the international babywearing community, they found themselves attracted to similar designs and Carla gave her the opportunity to design four prints. It's safe to say that with over 80 prints currently being worn by our children, the appeal of Melissa's whimsical art has struck a chord with the Australian cloth nappy community.

Having been a cloth bum mum prior to the discovery of Designer Bums, Melissa unfortunately struggled to make cloth work for her family. She loves being part of the community that has formed around Designer Bums Modern Cloth Nappies. The online support, teamed with the quality and design of the nappies, has made it so easy for Melissa to get full benefit from the nappies that have very special meaning to her. Even the time difference doesn't matter when you need trouble shooting, there is always a Mum up tending to their child throughout the night.

One Designer Bums print holds a special place in Melissa's heart. The intent behind this particular nappy has become the sentimental favourite of many in the Designer Bums family. Gideon's Garden was a piece of artwork that Melissa created to decorate her son's NICU bay, when he was born at 33 weeks. Offering comfort in an environment that is incredibly foreign and unexpected after childbirth, the artwork above his bed created a connection that echoes across the world and has touched so many Australian parents.

When Melissa isn't creating art, she is busy with her young family and dreams about having some spare time.  She appreciates having so many fans of her work in Australia and loves the reaction that her art creates in the Designer Bums community. There is plenty in the pipeline from Melissa to keep us excited about the fusion of art and function that is Designer Bums Modern Cloth Nappies. We look forward to the day that Melissa comes to visit Australia and experiences inspiration from our unique landscapes, diverse colour palette and little blue bees.

Follow Melissa on Instagram @melissa.art.charpentier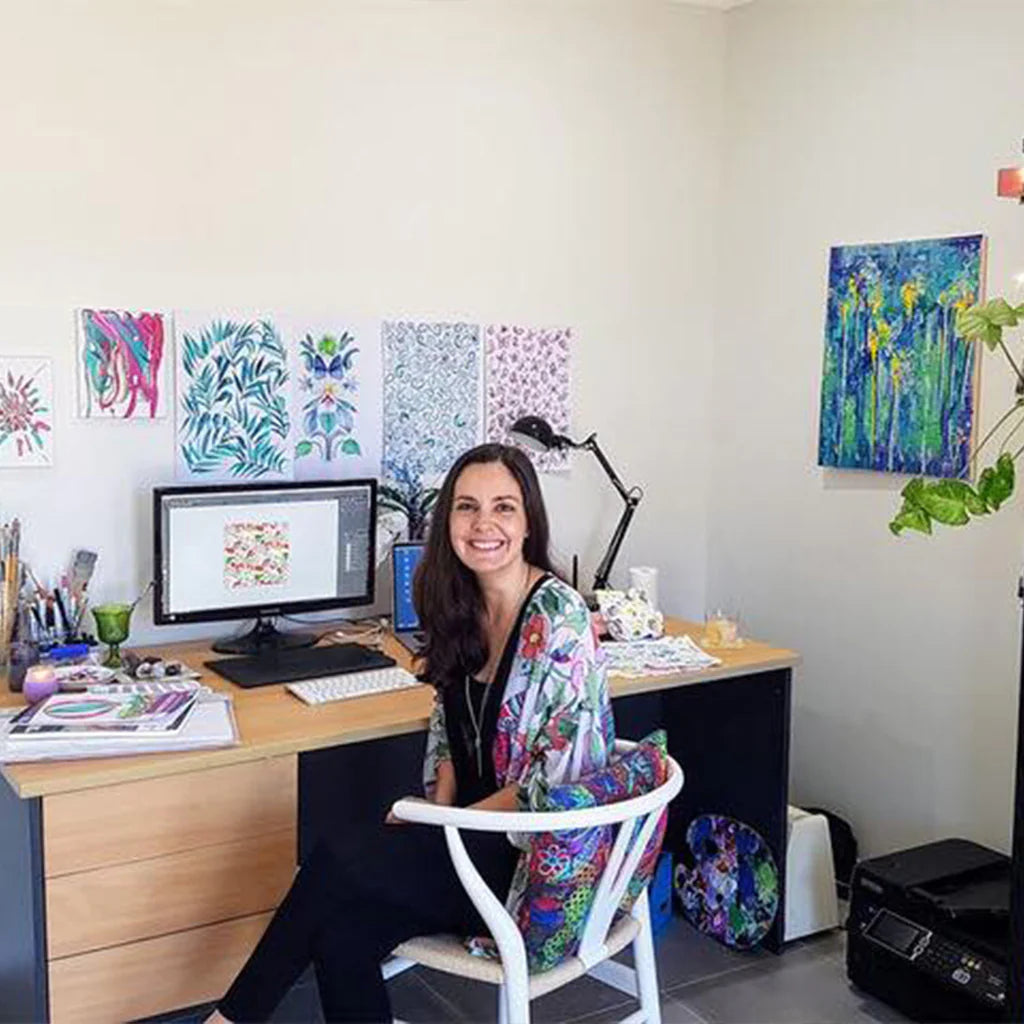 Lara Gurney
In the early morning light, on acreage just outside Brisbane, Lara Gurney starts the day. Lara is one of the Designer Bums Modern Cloth Nappies artists and she gets up to ensure some art is achieved before her family wakes for the day. Enjoying the luxury of her own studio, Lara takes inspiration from her garden and quintessentially Australian lifestyle. This inspiration is evident in the works that she has produced for Designer Bums and has contributed to a new generation appreciating fine art.
Art clearly runs in the family, with both of Lara's children enjoying and displaying talent with a brush. It makes life easier when deadlines are looming to set them up with their own supplies and turn work into a bonding experience. Other mums dread the call for paint and water but not Lara. When the kids lose interest in paint and their minds turn to the faster pursuit of go karting, Lara takes her supplies to the track with her and multitasks in the way that only work at home mums know how. Lara herself grew up in an artsy household and enjoyed art as a child. However, she began painting and drawing more after becoming a mum herself, 8 years ago.

 Prior to taking on art as her primary occupation, Lara has displayed a wide range of talents. She can proudly call herself a "sandwich artist" thanks to Subway and she makes a mean coffee due to years of experience as a barista. Lara has also worked in a pharmacy and been part of a concreting business but I think we can all agree that she shines in her art studio.

In her spare time, Lara enjoys playing with her two dogs, Bruce and Betsy. She also likes to cook and mentions an amazing pavlova that she just made. Giving us another insight into the inspiration for her iconic Australian designs. The garden is also another special interest. Lara is looking forward to the spoils from her recent additions, figs, mangoes and a sweet lime. We are looking forward to tropical fruit inspired art as a result!
Lara's art is made recognisable by her love for line work, watercolour, inks and acrylic. Lara's designs are so beautiful that they are given rebirth in subsequent design releases at Designer Bums, by utilising alternative colour ways that just add to the collectability of each design. Her normal customer base includes awesome mums (I think that's us), like-minded women who also run businesses from home and given the nature of the internet, she is discovering the joy of global customers. Lara's art can be found in places other than limited edition nappies. She sells pieces to private collectors but to authenticate one, you would need to turn it over and check the back, as she never signs the front.
Lara takes inspiration from many sources when she sits to create something special for Designer Bums Modern Cloth Nappies. When designing prints she likes to follow trend reports from design blogs Patternity, Pattern Observer and Patternbank. Staying on top of what people are enjoying is paramount to creating art that is loved by many.

We all rejoiced with her when Lara recently announced that she had completed her university degree. Studying a Bachelor of Fine Arts from Curtin University fit in with her lifestyle as it was completed online. Completing this degree was challenging and exposed Lara to a variety of disciplines and producing pieces under pressure. The perfect story Designer Bums story would have been Lara turning in a nappy for assessment!

Carla contacted Lara a little over a year ago. She asked Lara to create a design for a nappy. Lara never thought that modern cloth nappies would become such a big part of her life but she loves that each nappy is special and has it's own place in the Designer Bums story. After such a great response to the Nostalgia design, Lara has become a firm favourite with the Designer Bums customers. She feels that Carla has an infectious enthusiasm and really knows how to get the best out of her. When it comes to exciting things that we can look forward to in the future, Lara thinks that the sky is the limit.

With her art starring in the upcoming Designer Bums Australian collection, Lara felt a lot of pressure to ensure that each design was exactly right. Understandable when you consider how much ground is covered thematically within each print, so she definitely set herself a mammoth task. This design process may have involved Lara throwing all her art around her studio but persistence pays off and the end result has been designs that have generated a lot of discussion between the customers of each state. Be sure to have a look at your state's nappy and see if you can spot some familiar sights.

If you haven't experienced Lara's beautiful creations, keep an eye out in the next Designer Bums release. You will have to be quick as they are extremely popular. For some inspiration and a sneak peak at what you can expect, check out Lara's work on Facebook and Instagram @laragurneyart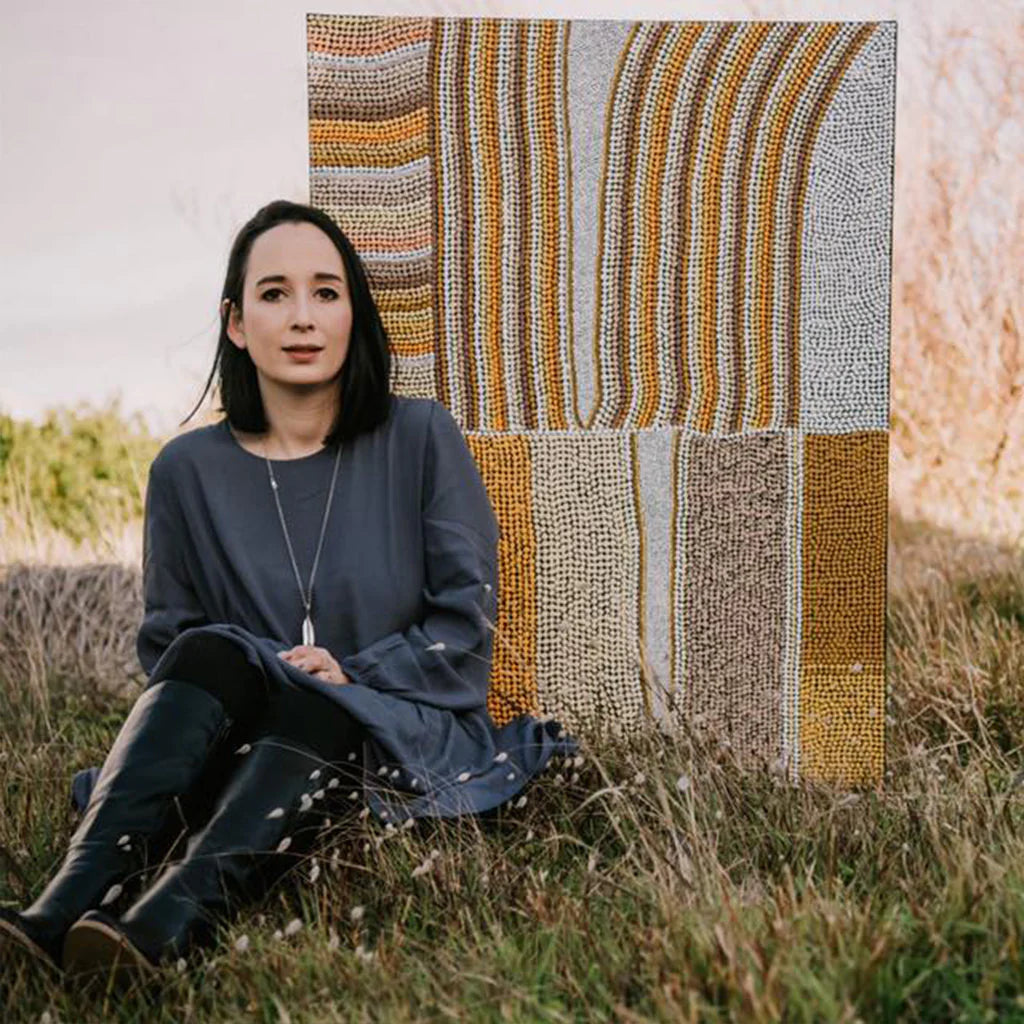 Amanda Westley
With the salty breeze in her hair and the sound of her children playing, it's where the sand becomes the ocean that you will find Designer Bums artist Amanda Westley. A proud Ngarrindjeri woman, Amanda's connection to the coastal region in which she lives, is evident in the colours and designs that make her art unique in the Designer Bums line up.
One of Designer Bums' newest artists, her contemporary Aboriginal Art is self-taught and usually takes form in the iconic dot style. Never expecting to be designing art to be enjoyed by the cloth nappy community, Carla found Amanda on Instagram and after hearing the Designer Bums story Amanda was incredibly excited to join the DB family. Usually painting acrylic on canvas, Amanda's influences include the Pwerle sisters from Central Australia, whose colour combinations offer inspiration. Amanda herself sometimes uses traditional colours but the majority of her work is in the bright ocean colours that represent the Ngarrindjeri Nation, where she feels her deepest connection to country.

Amanda has loved painting since she was a child but only recently started selling her art. With circumstances that many mums will sadly understand, Amanda has used her art to create a wonderful and stable life for herself and her children. After the birth of her second daughter, Amanda suffered the debilitating effects of postnatal depression. Battling extreme anxiety and a panic disorder, she was given the option of hospitalisation or moving back to South Australia to be given 24-hour supervision by her parents.

Complicated by the recent news of her father's battle with cancer and the stress of moving halfway across the country, Amanda's marriage was left in tatters. With a total of $16.50 in her bank account, the only option was to seek help for the PND and invest all she had into launching her art brand. Thankfully, her art has taken off and appealing to all walks of life, has given her the courage to fight her way through depression with purpose and dignity.

On a lighter note, like most artists, Amanda had a day job prior to making the beautiful art that gives us all a connection to the beautiful country in which we live. Prior to relocating to the Ngarrindjeri Nation, Amanda called the Gold Coast home and spent her time managing a "gentlemen's club". At Designer Bums, we think that Amanda's time is better appreciated by the mums and dads who have embraced her cloth nappy art and the wider community of Indigenous art lovers.
One of the common themes to arise in response to Amanda's artwork is the uncertainty whether it is appropriate for people who don't have Indigenous heritage to wear and use items displaying Indigenous art. Amanda was keen to allay fears regarding cultural appropriation. She wishes to reassure non-Indigenous customers that the sharing of Indigenous art is important for keeping the culture alive and to educate non-Indigenous people on topics close to the hearts of Aboriginal people. Care must be taken however to ensure that the art that you purchase, whether it is for hanging on the wall or wearing, is authentic and that you understand the story and significance behind the piece that you choose.

If you were fortunate to purchase either Coorong Campfires or Dreamtime from the Winter 2018 release, you would have seen just how striking Amanda's art is. Both of these designs elicited a strong reaction from a wide cross section of the cloth community. When art drives an urge to re-connect with country outside of the culture that it represents, you know that the designs have been created with the true heart and spirit of the country. Coming soon is a swim nappy featuring Krowi Thukabi the giant turtle, who created the winding greatness that is the Murray River. The billabongs and banks moulded by her large flippers and the body of the river carved by her great tail. Krowi Thukabi will allow your child to take a little bit of the dreaming to the pool or beach with them. This beautiful aqua and black design tells its own story and has the honour of being Amanda's favourite print so far.

Amanda loves the beautiful two-way relationship between her and Designer Bums. She thinks Carla is one of the most generous people that she has ever met. Some of the proceeds from the sale of Amanda's art have been returned to Amanda's local community to support young Indigenous students. These funds allow students to attend a cultural camp that their families would otherwise be unable to afford. These camps help immerse local kids in their culture and aim to foster self-identity and strong ties to their heritage.

Amanda looks forward to continuing her partnership with Designer Bums. It is important to her to create more prints and share her culture with this unique new audience. Keep an eye out for some beautiful colours with Ngarrindjeri Ruwi making an appearance in the near future. No collection is complete without a welcome to country and Nguldi Arndu beckons us all to join in the love of Australian Indigenous culture, regardless of where we originated.

A quick look at Amanda Westley's Instagram page offers Indigenous art in surprising places. Eye-catching and full of the life, the colour palette is bold and pleasing. From clothing celebrating NAIDOC to pieces that would brighten any home, Amanda has plenty to offer the Designer Bums community.

Follow Amanda on Instagram @amandaindigenousartist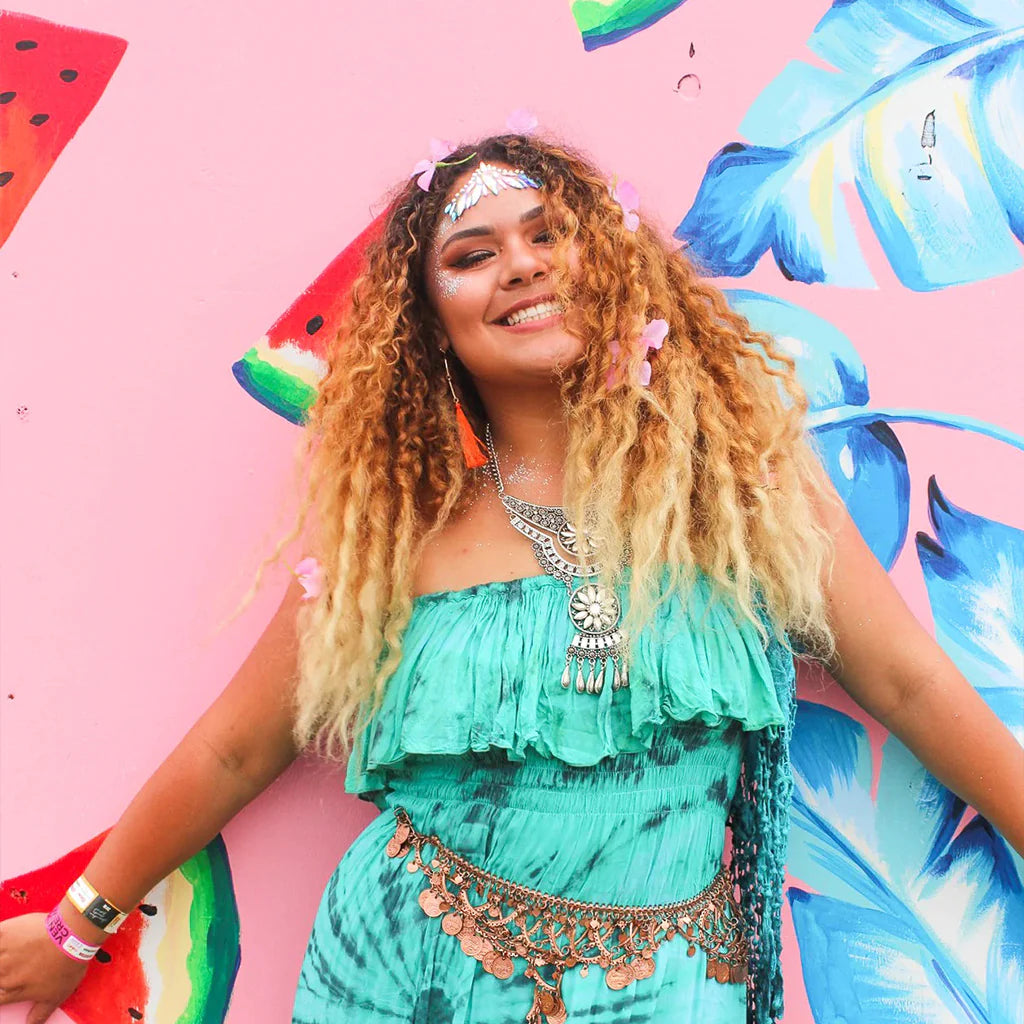 Grace Vuetaki
For Grace, the inspiration behind her art comes from her Fijian heritage. Born to an Australian mother and Fijian father, she grew up on the sunny New South Wales Central Coast with three older siblings. Her mother, a "colour loving hippie and avid beachgoer" always encouraged her to embrace Fijian culture and she has fond memories of her father bringing home an array of tropical fruits for them to eat. There is no doubt that her upbringing as a baby from the 90s, with a Fijian heritage and a westernised lifestyle, has found its way into her illustrations and paintings.
She didn't always want to be an artist however, she always knew she would end up doing something creative. Whether it was doodling all over her school books, staying late in art class or painting at home, Grace's mind always wandered into creative spaces. She toyed with the idea of becoming an architect due to her love of drawing her dream home, but luckily she became an artist and now can't imagine doing anything else.

From the tropical aesthetics that come from the islands, to the men and women of Fiji with flowers and ferns behind their ears, it's clear to see why Grace says she's naturally drawn to colours and patterns - it's in her blood. She also finds inspiration in her surroundings, plants, animals and her life choices. She lists her main artistic influence as Frida Kahlo citing the colours she wore, the truth she spoke, and the emotion her artworks represented as her main reasons. Grace uses watercolour and acrylic paint to bring her colourful artworks to life.

When she's not designing, Grace likes to spend time with family and friends by the beach and enjoys any outdoor activities. Excitingly, she is expecting her first baby this October and although she says she loves all the designs she has created for Designer Bums, the design that spoke to her and made her the most proud was, naturally, the Fijian design.

Grace says her heart fills with joy, knowing that she can dress her new baby in his culture and that she, a mixed child herself, get to say that she designed it. She still can't believe that her hands created something that will help preserve her Fijian culture and can be shared with other mums.

What she loves most about creating for Designer Bums is the hype and excitement when a new design is released, and she feels the same when another artist's design is revealed too. She finds it really rewarding to know that there is still an appreciation for art culture.

An animal lover for years and now a "plant mum", Grace's passion for the environment has grown immensely along with her knowledge of the environment and the need to live an eco-friendlier life. Being able to dress her new baby in an eco-friendly product is very important to her, and she is thrilled that she can help contribute to helping parents develop an eco-friendly mindset.

Check her out on Instagram @graceagnes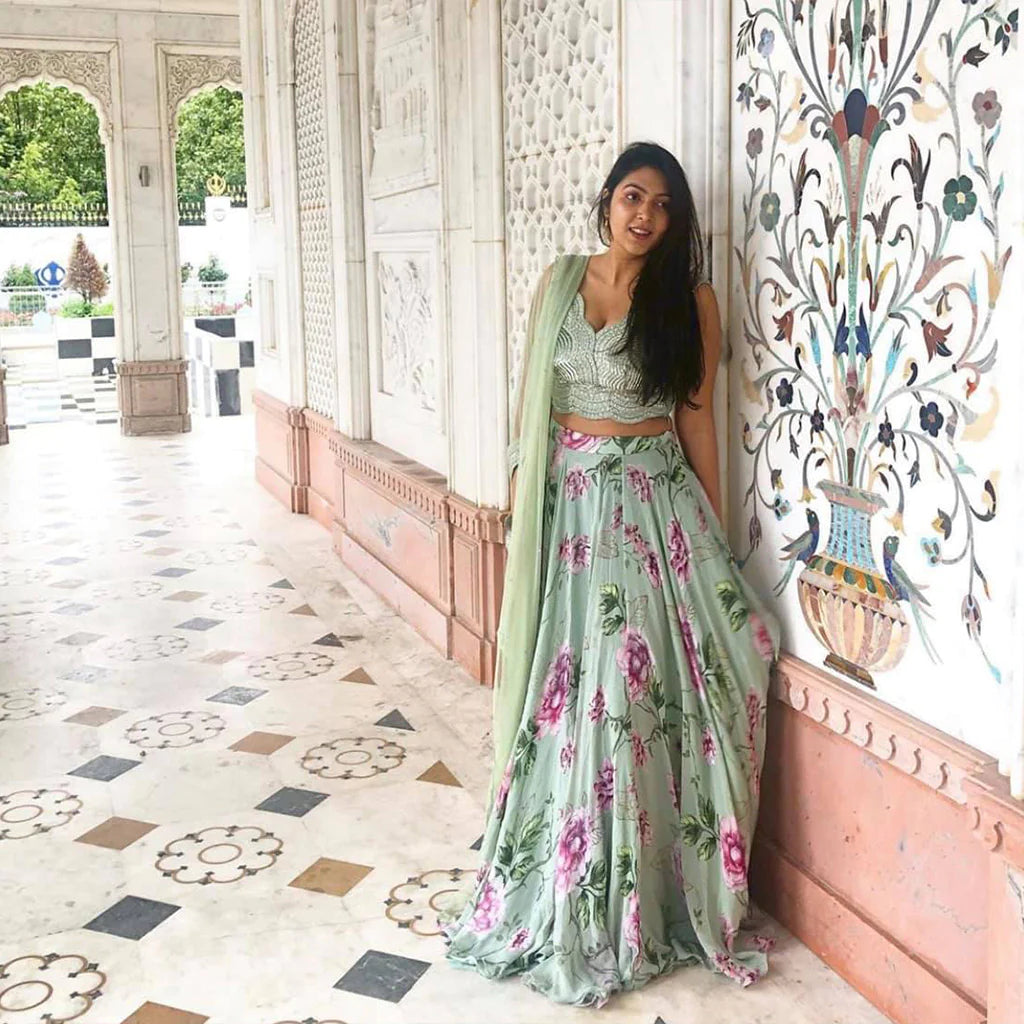 Naina Lamba
Naina Lamba always knew she had a flair for the creative. Watching her mother, a well-known fashion designer in India, create new designs and patterns excited her, and her curiosity for design led her to study fashion technology, and eventually a Masters in Textile Design (Print).
Naina's love of travel continues to be a source of inspiration for her colourful prints. The uniqueness and quirks of city streets in Greece, Portugal and Italy's Amalfi Coast, local flora, fauna and colourful facades, have all been represented in previous collections. She lists Henri Matisse, Laura Ashley, Marimekko, Dolce & Gabbana and Sabyasachi as influences for her colourful prints.

When creating her prints, Naina isn't limited to any particular medium and prefers to mix different techniques to create new designs. Through watercolours, acrylics, markers, coloured pencils and even digitally on an iPad, she designs unique prints that have an intricacy about them which could only be achieved through the use of multiple mediums, crafted by hand.

Naina loves the freedom she feels when creating prints for Designer Bums cloth nappies. Exploring different themes, techniques, colours and motifs means she can be truly expressive. Her favourite designs to date include a series of botanical-inspired prints featuring exotic tropical leaves. She was able to visit Thailand and draw these plants in person.

When Naina isn't designing textile prints, she also loves cooking, reading and travelling. Please feel free to ask her any questions below and please show your support by following her on Instagram @nainalambatextiles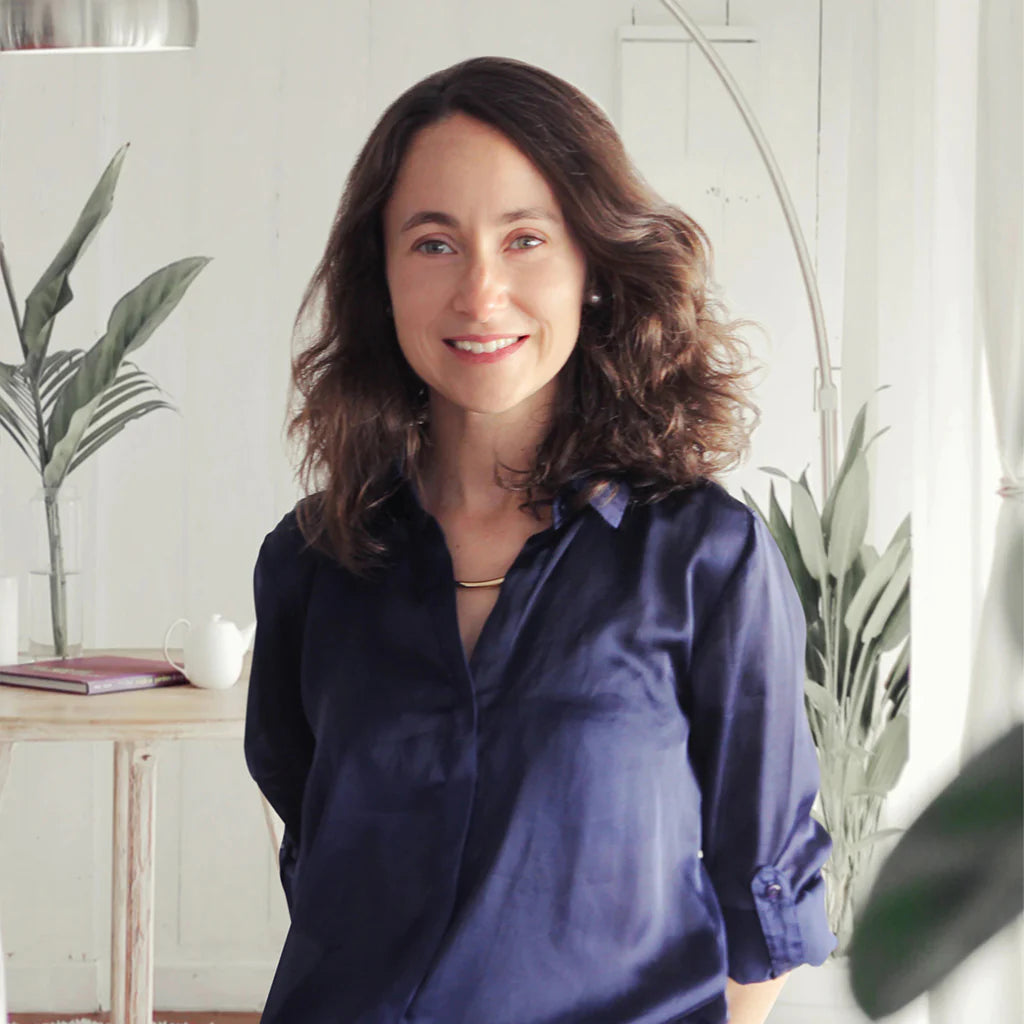 Gigi Villaverde
For Gigi Villaverde, a career in graphic design and illustration started with a need for self-expression. As a child, she loved painting and drawing the things around her. As she got older, that love grew into wanting to create pieces of design that would be beautiful and functional for other people as well as herself. She decided to study graphic design, but her love for patterns came after signing up for a course in stamping technique. Her curiosity for how an illustration could be repeated indefinitely and applied to any surface, made her realise that making people happy by embellishing everyday items with illustration was her true calling.
Gigi names Laura Varsky, an Argentine designer and illustrator, Moniquilla, a Spanish illustrator and Elizabeth Olwen, a Canadian designer and illustrator, as her artistic influences. She admires the strong personalities they express through their work and likes to do the same by using her Argentinian culture and Italian/Spanish ancestry. She finds inspiration everywhere, from the tile patterns in the Buenos Aires subway, to the small garden of flowers her husband looks after. She believes that everything is a source of inspiration which allows her to reinterpret reality and transform it into patterns.

She has a special place in her heart for all her Designer Bums illustrations, but her absolute favourite is "Always Come Back" because of its history. After travelling to Calafate in the south of Argentina, Gigi discovered a local legend. The legend begins that an old woman was forced to stay behind when her tribe migrated to escape the cold. When the cold set in, it seemed as though the old woman was about to perish, but a gust of wind turned her into a beautiful thorny bush with scented yellow flowers. When summer arrived, the delicate flowers became berries, and before the autumn, they began to ripen, taking on an exotic colour and exquisite flavour. Animals that would once migrate began to stay behind to taste the fruit, and animals that had already begun their journey returned for the same reason. The tribe began to take the fruit with them and spread its seeds throughout the region adopting the legend of "the one who eats Calafate [berries], always returns". Her "Always Come Back" print was inspired by the plant, flowers and berries of Calafate, as well as the ferns and red foxes of the forest.

Gigi loves that Designer Bums is a committed brand, not only to their customers by offering quality products, designs and exclusivity, but also for its commitment to the environment. She says that Designer Bums provides more than just products, but an eco-friendly lifestyle that will help parents do their bit to preserve the environment for generations to come. In her free time, she enjoys walks with her husbands and spending time with her family. She is currently learning to speak Italian to become closer to her grandparents, who came to Argentina from Italy. Her origins are significant to her, and she is enjoying learning more about her heritage as she progresses.

Check her out on Instagram @gigi_villaverde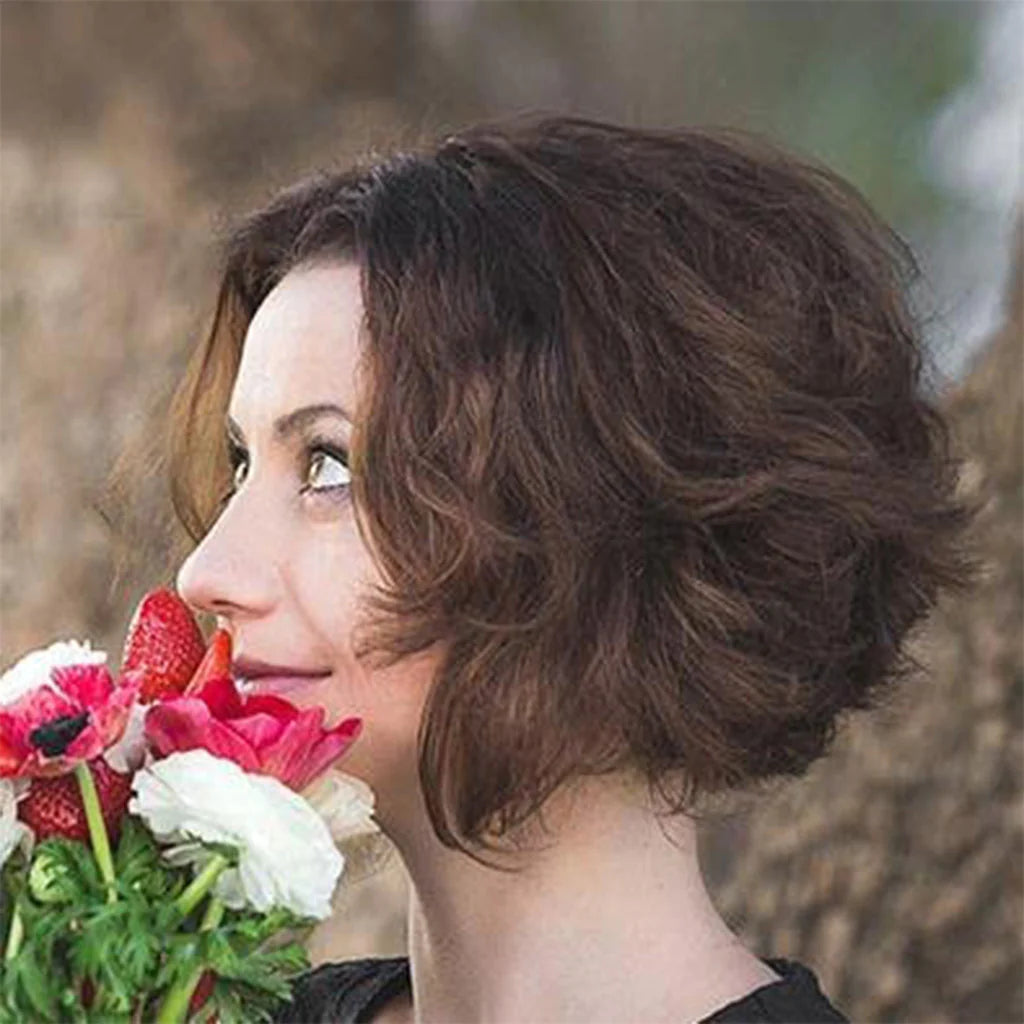 Ania Dergachev
Ania Dergachev finds inspiration wherever she is, whether that be in Barcelona where she currently resides, her native Ukraine where she spent the first 5 years of her life, or Israel where she grew up. She credits Israel for her love of colour as it's light almost every day of the year. 
Ania studied a Bachelor's degree in Graphic Design and Illustration. At one point she thought she would become a psychologist, but found that she was more attracted to the visual medium of art especially Salvador Dali's work and surrealism. 

This surrealism inspires Ania's prints, including her favourite Designer Bums print "Animal Party". As she was designing the print, she imagineda party for close friends that goes for a long time, with everybody coming and going as they please, having long conversations about nothing and everything. This is reflected in the whimsical placement of the animals, almost like the Mad Hatter's tea party. Ania loves being able to create a variety of prints for Designer Bums, and the fact that the products that bear her prints are sustainable and helping to create a better world.