Out and About with your Designer Bums Play Mat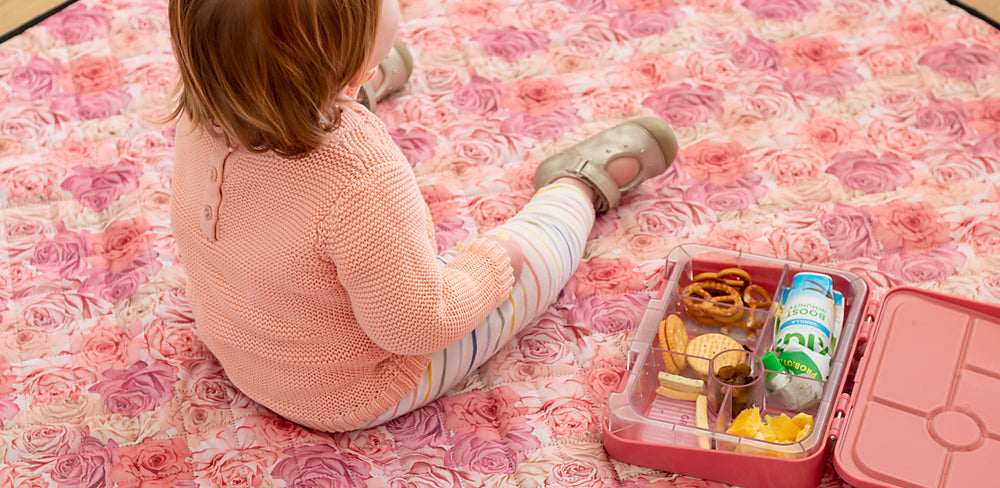 The team at Designer Bums HQ love our products just as much as our customers so we are always looking for creative ways to upcycle and expand the uses of our beautifully designed nursery essentials. Because of this we wanted to take the opportunity to showcase our Play Mats. Our Play Mats are a nursery staple but have you thought about all the ways that you can utilise them? 
All of our Play Mats feature the exclusive hand illustrated designs which have put Designer Bums on the map, giving a beautiful splash of colour to your nursery. Curating a colourful environment for children is important as exposure to a range of colours can help to promote healthy brain development. Even before a child can focus their eyes properly they can experience colour, so surrounding them with a colourful environment can be a great way of promoting early learning for your little one. Touring around your garden looking at different coloured things is another great way to experience colour.
How your Designer Bums Play Mat can add a splash of colour to your home
Your Play Mats can add a beautiful splash of colour to your nursery. A generous 130 cm in size they are large enough to act as a small mat, but also small enough that you can fold it up and take it on your travels. 
In addition to its core use as a playmat we have seen so many other creative uses for them throughout the home. If you are about to start solids they act as a great splat mat for under your high chair as they feature a water resistant PUL topping and are easily machine washable. The bamboo velour underside is the perfect padding for your pet to snuggle into as a bed. And they are the perfect base for a little tent in your play area so that you can create a cozy space for your little one to play.
The perfect playmat for tummy time

A floor mat in your nursery to add a pop of colour

A snuggly Animal Bed for our furry friends

Playtime accessory for under a tent or baby gym
Out and about
There's no question that Australians like to get out and about - whether it be  in our own backyard, the park, or down to the beach. And because of this a Play mat is a must have item for your nappy bag or even just to keep stored in the car for those unplanned excursions.
Because our Play Mats are topped with water-resistant PUL you can wipe up any spills and flick off sand or grass easily before taking home to wash. Because of their generous size they are a handy lightweight travel companion. When you have your playmat with you, you have an instant picnic blanket. The luscious bamboo velour underside also makes it a convenient lap blanket for those days that turn into chilly evenings when you are still out and about. 
Designer Bums Play Mats also make the perfect gift - with all of these uses you can see that you will always find a use for them! 
Designer Bums Play Mats also conveniently fit inside our Regular Wet Bags, Travel Wet Bags, and Totes for easy transport and use.