What is a Wet Bag and why do you need another one?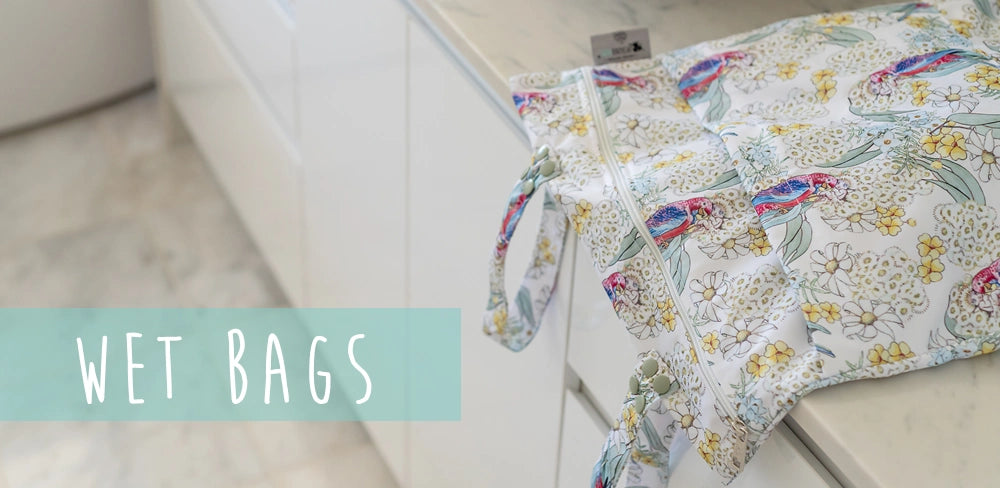 Top 5 uses for Wet Bags:
Store clean and dirty Nappies when out and about

Swim Bag

Packing Pod for Holidays

Birthday Party Bags / Reusable wrapping

Shopping Tote 
What is a Wet Bag and why do you need another one?
Wet Bags have traditionally been the best kept secret of Reusable Nappy parents but are increasingly hitting the mainstream parenting scene. For those who have never heard of them before, the concept of a 'Wet Bag' may be confusing. Is it a bag full of water? Does it keep things wet? What exactly is a Wet Bag for!!! Have you had to explain it to someone else or are you still in the dark? 
What is the point of a Wet Bag?
Interestingly despite the name, a Wet Bag is actually a bag that can keep the things inside it dry, OR it can be used to store wet things to keep moisture and smells inside the bag. Made from water resistant PUL, Wet Bags are perfect storage bags for soiled baby items. This makes Wet Bags a parenting essential and a must have item for your nursery and baby bag.
Cloth Nappy Parents LOVE Wet Bags and have been using them for years to store clean and dirty nappies when out and about as an alternative to single use products. Because they are water resistant they also make the perfect bag for Swimming gear, a travel pod for clean and dirty clothes when on holiday, or simply as a tote for shopping, library books, or toys. Our blog article Reduce your carbon footprint with an easy switch talks about some of our favourite uses for Wet Bags in more detail. [https://designerbums.com.au/blogs/db-tips/reduce-your-carbon-footprint-with-an-easy-switch]
Why choose a Wet Bag?
We want you to feel good about your parenting choices and we want those choices to make your parenting journey easier, not harder. Each single use plastic bag can take 20-1,000 years to break down and often end up in waterways. In comparison Wet Bags can be washed and used over and over again for years to come. They are a simple decision that you can feel good about making that will save you money and waste. You may only discover them as part of your parenting journey, but we know from experience that you will still be using them once those early days of parenting are past. 
Why is a Designer Bums Wet Bag the Best Wet Bag you can choose?
Designer Bums have a huge range of Wet Bags, both in diversity of size and shape, as well as our wide range of beautiful designs. You are sure to find something to suit your needs when you check out the range. 
Our regular sized Wet Bags are a game changer for many. They feature one big pocket, and a smaller front pocket so that you can separate items. What DB parents love the most though are the customisable straps. This style of strap was designed right here at DBHQ by our owner Carla who wanted to increase the uses of the bag to make them suitable for a wider range of uses than just baby items. They  can be looped over your pram handles to hang, joined together to turn it into a long tote, doubled over to make a reinforced carry bag, or worn as a little backpack by your child.
Our handy Travel Wet Bags are  the perfect size for a single day's worth of nappies so are ideal for sending to daycare, or for excursions out of the house. They can double as packing pods for holidays, a swim bag for togs, towel, and valuables, or handy storage for your playmat or baby carrier. The straps can be looped for hanging or can be joined together into a carry bag. 
Our XL Wet Bags can fit a small child inside them and are perfect for linen cupboard storage, storing clothing, and for taking on holiday for dirty clothing. We also have many reports of them being used to hide Birthday and Christmas gifts, and as Christmas stockings. 
When we are at Baby Expo's we often get asked what you can use Mini Wet Bags for. These have unlimited uses! Storage of Nursing or Sanitary Pads, Cloth Wipes, Single Nappies, snacks, power chords, medications, party bags, spare undies for the school bag, pencil case, and more. They are washable, reusable, and easy to integrate into your life in place of their plastic single use counterparts.
The uses for Wet Bags are endless  and if you ask the team at DBHQ we will all tell you that you will always find one more use for them than the number of bags you have. 
References:
https://www.cleanup.org.au/more-information-on-plastic-bags