Reduce your carbon footprint with an easy switch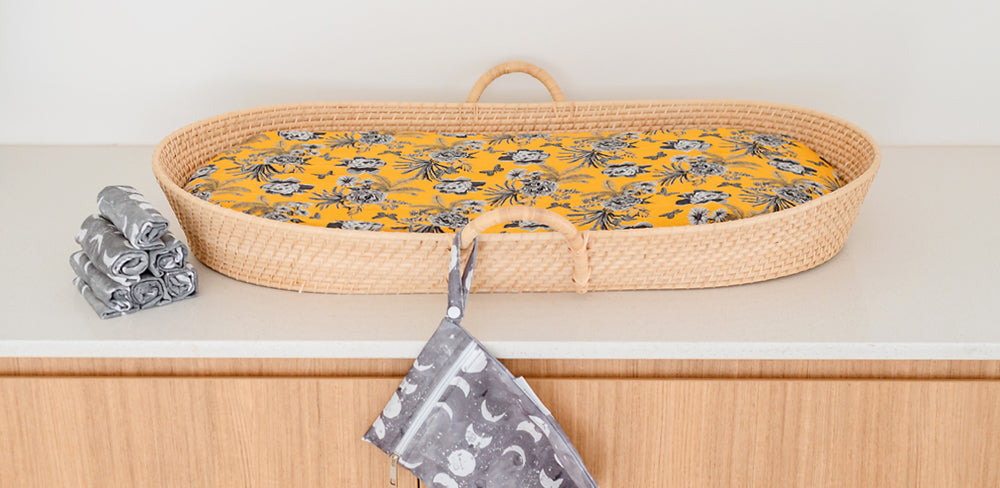 Whilst some plastic bags can be recycled, the number one way to reduce the impact of single-use plastic on the environment and our beautiful Earth is to use reusable alternatives. Designer Bums Wet Bags are the perfect alternative in any situation where you would otherwise use a plastic bag and are an easy switch to make with a big impact on the environment. With large companies making the decision to phase out the use of purchasable plastic shopping bags now is the time to stock up on a reusable alternative.
Why make the switch?
Did you know that the average plastic bag is used for just 12 minutes, before spending anywhere between 20-1000 years in landfill? There, it breaks down into microplastics, but never really disappears. Australians use a giant 10 million new plastic bags daily, which contribute to litter, landfill and pollution. Plastic Free July is the perfect time to try and reduce your carbon footprint by saying no to single use plastic, as even the smallest lifestyle adjustments can lead to big results.
Introducing the BEST reusable option: Wet Bags
Every time you reach for a Designer Bums Wet Bag over a single use plastic bag, you are taking away from the 10 million new bags used in Australia each day, and helping create a more sustainable and brighter future for our children, and our children's children.
The Designer Bums Regular and Travel Wet Bags are so much more than just nappy storage. The only limit to the use of a Wet Bag is your imagination and creativity.
Never get caught without a bag at the shops again
The Regular Wet Bags feature our customised strap design. This was developed and perfected right at the kitchen table here in Melbourne, Australia. The straps on this bag allow the bag to go from a backpack, to a pram tote on the handle bars, to an over the shoulder bag, or a reinforced carry bag (perfect for shopping). Simply  use the snaps to move the straps around to the style that suits your needs. 
These bags fold down small and can nest inside each other so that you can keep them handy in the boot of your car, hanging in your pantry, in your handbag, or wherever else is convenient. 
Can you reach everything you need at your change station?

Your little one will be a wiggly worm before you know it so keeping one hand on them at all times is recommended. This means everything needs to be within easy reach. Planning this out ahead of time means you can avoid any surprises before they arise.
Designer Bums Wet Bags can help you to achieve a functional and stylish change station. All of our Wet Bags come with straps which allow you to secure them to your change station and fill them with the things that you need. They can also be handy to have stashed around the house or in your car with a Designer Bum Change Mat inside for a makeshift change station.
What's our Top Tip for baby clothing storage? Sort out your clothing by size 
Using the Designer Bums XL wet bags can be a great way to store clothing by size, whilst keeping everything clean and dust free until it's time for it to be used. Once you have moved past a size you can wash your items and pack them into an XL Wet Bag for longer term storage by size as well. Storing by size can help you to find things easily later on if needed.
Your XL Wet Bags are generously sized for use as laundry hampers, both at home and when traveling or camping. They are also the perfect reusable storage for linen, toys, soft furnishings, clothes or anything else you need to keep clean and dry until you need to use it again. Just remember that if hanging your wet bag you need to do so with the zip closed to avoid any strain on the corners of the zip. 
With every single-use plastic bag you don't use, you help save resources for our future generations. So why not pop a Designer Bums Wet Bag in your backpack, pocket or handbag, and help us take a big step towards creating a more sustainable tomorrow.
All of the Designer Bums Wet Bags feature our eye-catching unique artist prints. Choose a colour palette that suits your home and nursery theme and brighten up your space with style and functionality. Check out the range of wet bags.
Further Reading
If you enjoyed this article you might also be interested in reading Get Money Back on your Reusable Products where we explain council rebate programs or How families can reduce their waste and save money with Designer Bums where we talk through some simple reusable product solutions.