Sustainable Christmas Guide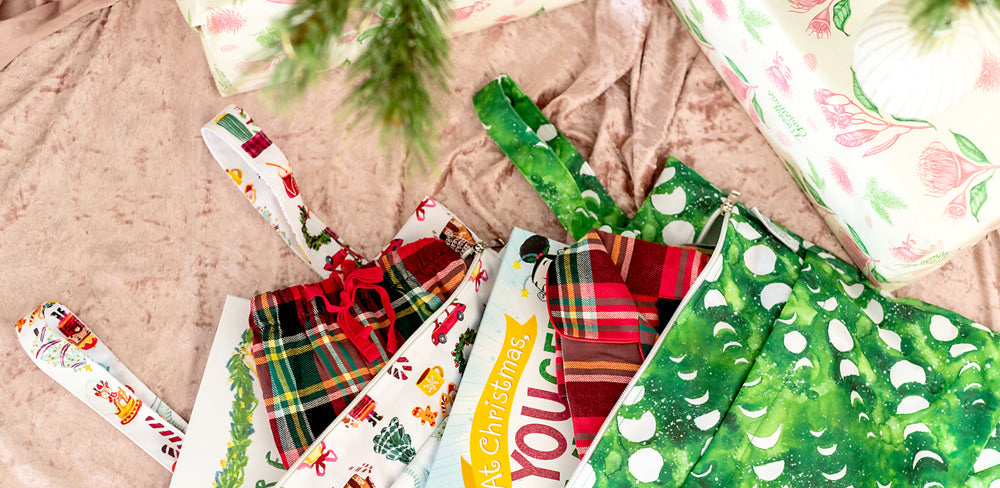 Something they want, Something they need, Something to wear, Something to read!
This year we would love to talk more about how you can have a sustainable holiday season with a focus on reusable and recyclable gifts and products.
Let's talk about wrapping your gifts. For years we have heard about people who forgo traditional wrapping paper and instead choose to reuse things like newspapers in an effort to make an eco-choice. In the digital age many of us don't have newspapers laying around. So what can we do to avoid the waste created by wrapping paper?
One of our favourite gift giving hacks that we talk about all the time is to use Wet Bags as wrapping. Wet Bags come in handy for Birthday parties (especially pass the parcel) and Christmas gifts. It reduces waste and also gives the person a handy bag that they can use into the future.
Mini Wet Bags are perfect for wrapping end of year teacher gifts and those little gifts that you never know you need until you are in a situation where a gift is needed. The snap loop also allows you to hang the Mini Wet Bag from your Christmas Tree. We love filling Mini's with surprises like sticker books and mini colouring books and hanging them on the tree for the little ones.
In addition to Wet Bags have you thought about using a swaddle as wrapping? Swaddles are large and stretchy and can be used for all of those items that you can't fit into a Wet Bag. They double as a light blanket or scarf once they have done their job as wrapping making them an ideal sustainable gift.
Using reusable wrapping paper opens the door to some wonderful traditions. 
A Gift Hunt: wrap each person's gifts in a different pattern and then hide them. Give them something with the print on it or show them a picture and then they have to find their gifts. They can only open the ones that are wrapped in their print! 
Bring a little mystery to the holiday season. Assign each person in the family to a print and wrap all of their gifts in that print. Don't place any labels onto the gifts so there is no way of knowing what is what. On Christmas morning you can reveal which wrapping belongs to which family member. 
Pass on the wrapping: some families have a tradition of traveling wrapping paper. The wrapping paper is reusable e.g. cloth and is reused each year and passed around the family.
Gifting items they don't know they need
There's nothing better than giving someone something they don't know that they need yet and that they will use all the time. Australians love to get out into the water as we progress through the warmer months. Swim Nappies are an essential for any family from birth to toilet training and we often need them before we know it. Gifting a Designer Bums Swim Nappy means that you can give a gift that will always be used. Our Swim Nappies are adjustable so can be customised to each child and reused  again and again.
Gift them something luxurious they will cherish
Nursery essentials are items that we use all the time, but it doesn't mean they need to be boring. Despite being essential, many of us don't always prioritize spending money on the things that we need. So when you are gifted with something that is both functional and beautiful it can be a greatly appreciated gift. At Designer Bums we take pride in sourcing beautiful custom designs from our suite of artists. We take the time to curate each collection and release the print only once. This means that each print run is unique and limited edition and the perfect gift for the families in your life. 
Designer Bums products will last a lifetime and we love to think of the stories they will tell as they are passed onto future generations as Heirlooms. Our range of quality bedding and baby supplies utilise GOTs certified fabrics to ensure that no harmful chemicals are against your little one's skin. All of our sleep products are made with safety and comfort in mind and provide a soft and luxurious surface for your little one to rest on. 
We hope these ideas have helped you to think of a few ways to make the Holiday season sustainable and fun!