A Mindful Gift Giving Guide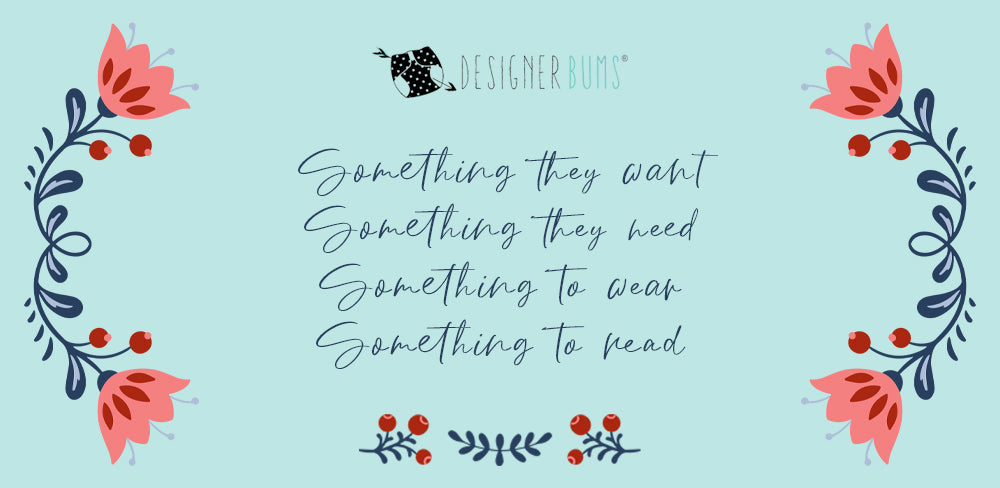 Something they want, Something they need, Something to wear, Something to read!
If you are looking for a little inspiration for the holiday season this is a great rule of thumb for gift giving. Following the philosophy of want, need, wear and read for choosing the best gift for children and babies will help you to choose meaningful gifts that don't go to waste.
We like to think that Designer Bums products help you tick off all of your wants, wear, and needs at the same time! Whether you are shopping for your own family or someone else, the beautiful hand illustrated Designer Bums prints will bring joy to the receiver. 
Do Nan and Pop need some new sheets for sleepovers at their house? Do you want to gift a friend with their favourite design in a Wet Bag or Swaddle? Would the kids love an XL Wet Bag as a Santa sack?
No matter what you need this holiday season we have you covered. Below you will find tips on how to reduce waste this holiday season with some mindful and easy switches, as well as some of our top products for gifting to others.

Some of our top Holiday tips:
There are endless uses for our XL Wet Bags and one of our  favourites at this time of year is to use them to hide holiday gifts from little eyes! 
Instead of wrapping paper why not use a reusable option like a Wet Bag or Swaddle instead! Using a Wet Bag or Swaddle to wrap gifts can reduce your Holiday waste, and can be reused again and again. Our Swaddles make a gorgeous scarf once bubs is done with them.

Your little one can pick out their favourite XL Wet Bag print and use it as a Santa Sack.

(Just remember not to hang with the zipper open as this can strain the opening).
What are some of our most popular products to gift this holiday season? 
Recycled Swim
When you gift a little one with Swimwear you can guarantee that you are giving a gift that is both wanted and needed. The Designer Bums Recycled Swimwear range is made from premium quality recycled Repreve so you know your choice is also a mindful eco friendly option that will last the test of time. With 3 different styles to choose from and sizes ranging from 6 months up to 6 years you will be sure to find a swimsuit. The only thing to worry about is which of our exclusive hand illustrated prints to choose from! 
Organic Bedding 
Our gorgeous heirloom quality bedding provides a luxuriously soft surface for your little one to rest on whether it be the bassinet sheets, cot sheets, or single bed sheets. Bedding is something that you can never have  too much of so you know this gift won't go to waste. 
Made from 100% GOTS certified organic cotton jersey they are a natural and breathable option for your little one. Bedding is something that we all need but don't always buy often enough. Gift your loved ones with some of our gorgeous organic bedding showcasing our unique hand illustrated  designs. 
Reusable Nappies
Gift someone with something that they truly need this season. Designer Bums Modern Cloth Nappies come in a wide variety of hand illustrated designs with something to tickle everyone's fancy. Reusable cloth nappies are a great way to reduce the number of single use nappies going to landfill and are gentle on our little one's sensitive skin. When you gift Reusable Nappies to someone you know that you are providing an eco-friendly option that will save them money. 
Buy once, passed down, pass on. Heirloom quality products that last with your growing family. This allows you to pass the items on knowing they will last the test of time. 
Keep your eyes peeled on Monday for our 7 days of Christmas.