Swaddling 101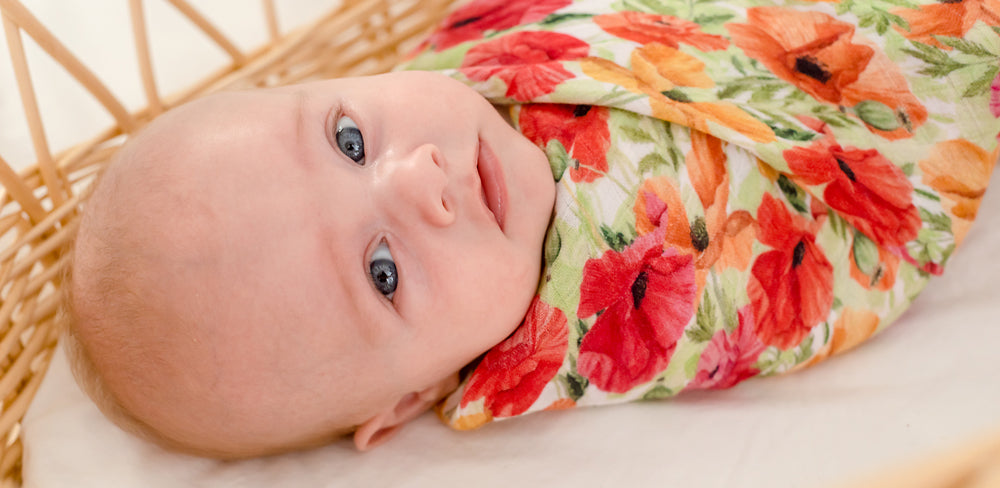 Wrapping your baby is one of those things that looks easy but seems like making origami when you actually try for the first time. Rest assured that it doesn't take long to learn to wrap your baby like a pro! The Designer Bums team LOVE swaddles (have you seen the range of Designer Bums Luxury Swaddles with our exclusive designs?) so we wanted to put together some information on why we swaddle, how we swaddle, and some of our creative uses for swaddles so that you can up-cycle yours once your little one no longer needs it. But be warned… you can never have too many!
Why do we swaddle?
Babies have been swaddled for millennia as it provides a safe and secure feeling mirroring the security of the womb. Red Nose Australia recommend wrapping your baby from birth if you are going to do so, and list a number of benefits to doing so:
↓ Decreases spontaneous arousals

↓ Decreases distress

↑ Improves sleep

↑ Increases neuromuscular development for preterm babies
Not all materials are created equally though and it is important to select an option that allows your little one to regulate their temperature and move safely. Designer Bums Luxury Swaddles are made from a combination of GOTS certified muslin and silky bamboo which provides a firm yet flexible, lightweight, breathable wrap for your little one.
How do we swaddle?
Swaddling isn't just about wrapping your baby. We need to ensure that the way we swaddle allows for healthy hip development. When swaddling it is important that your little one is able to bend their legs up and out at the hips and to also bend their knees. This is why choosing the right material is so important.
When swaddling you want to wrap their upper body firmly, but not tightly. There are many different types of materials used for swaddles and the Designer Bums Luxury Swaddle gives you the perfect balance of firmness whilst still allowing stretch for functional movement and development. 

Open out your Designer Bums Swaddle and fold back 1 corner to create a straight edge. 

Place your baby onto the folded swaddle aligning their shoulders at the top of the folded edge.

Bring the left arm down and pull the left corner of the swaddle over your little one's arm and chest, tucking it under the right side of your baby. Repeat for the right arm, tucking the swaddle under the left hand side. The weight of your little one will hold the swaddle in place.

Fold the loose swaddle at the end of your little ones legs underneath their legs, ensuring that both legs are bent up and out and have room to move without restriction.
What are some of the ways that you can up-cycle your Designer Bums Swaddle?
What is better than an item that has multiple uses? Up-cycling your items gives them a new lease on life and prevents them from being discarded after a short period of time. Here are some of our top uses for Designer Bums Luxury Swaddles: 
A lightweight snuggle blanket

Breastfeeding cover

Burp Cloth

Change mat 

Pram Liner

Sarong

Beach towel

Scarf

Playtime- they are great for homemade tent's! 

Makeshift playmat
No matter what its use, your Designer Bums Swaddle will add a pop of colour to your life with its exclusive hand illustrated artwork.
Check out the full range of luxury swaddles here.
Resources
Healthy Hips Australia, Safe Swaddling Guidelines. https://www.healthyhipsaustralia.org.au/safe-swaddling-guidelines/ 
Red Nose Australia, Wrapping or Swaddling Babies. https://rednose.org.au/article/wrapping-babies