Plastic Free July with Designer Bums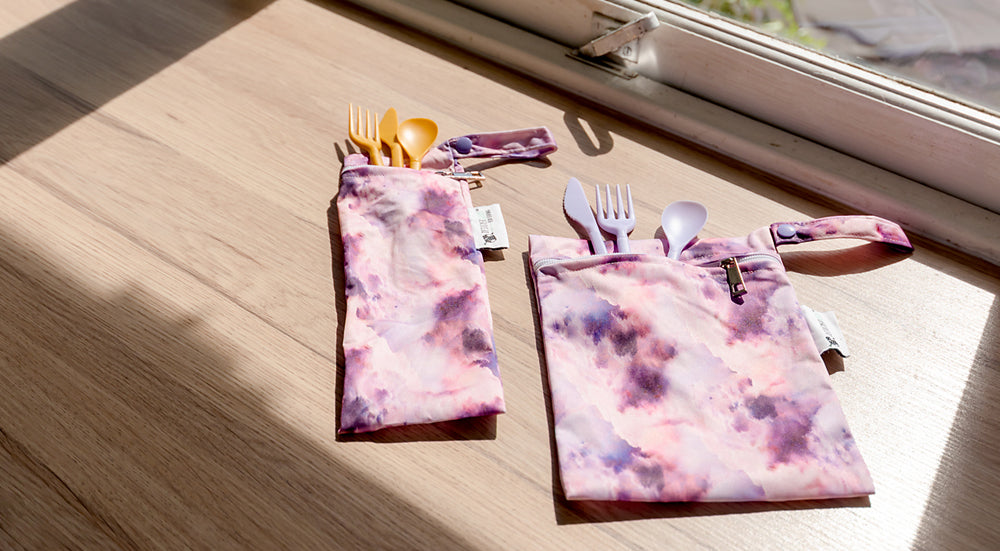 Plastic Free July is here!  This global initiative aimed at reducing the consumption of single use plastics, is the perfect chance for all of us to rethink the part we play in the preservation of our environment and beautiful planet Earth.
Your contribution doesn't have to be difficult, time consuming, or an all-or-nothing approach. Every small change we make counts, even if it seems insignificant at the time. If all of us make that one small change, together we can make a huge global impact.
We have put together a list of the simple strategies you and your family can implement this Plastic Free July and create new sustainable habits.  Use your favourite Designer Bums products, and play your part in reducing single-use plastics. 
Say no to single use plastic bags, by making sure you've always got a Designer Bums Wet Bag with you. Our Wet Bag come in 5 handy sizes, meaning you can use them in just about any situation where you would usually use a disposable plastic bag. From shopping bags to snack bags, laundry hampers, or storage for wet, dirty clothes and nappies, Designer Bums Wet Bags have got you covered.
You can bring your own straw, and eliminate the need for single-use plastic straws. The Designer Bums
reusable metal straws
are a stylish alternative, and can be stored in our handy, cute
straw pouches
so you never leave the house without one. Our straw pouches are also big enough to fit a couple cutlery sets, so you never get caught out having to use the disposable options when out and about.
Designer Bums Reusable Bowl covers are the perfect step towards creating a sustainable and eco-friendly kitchen. They are designed to fit over plates, jars, containers, baking trays, or wherever else you would usually use a plastic cling wrap. Not only do these cut down on plastic waste as you wash and use them over and over again, they are sure to brighten up your kitchen!
You can make your period more sustainable and plastic free with Designer Bums Cloth Sanitary Pads. With every disposable pad containing the same amount of plastic as FOUR plastic bags, changing over to our reusable option will make a big difference. If you're unsure what you need, or where to start, we have put together a handy trial pack; the perfect opportunity to test out all 4 sizes available and see what you need to make your period plastic free. 
Last but certainly not least, we are here to help you ditch the disposables! Swapping over to cloth nappies, even if only for one nappy change a day, can save thousands of disposable nappies ending up in landfill.  Our stylishly beautiful, trim fitting and super absorbent
Designer Bums Modern Cloth Nappies
are sure to make your cloth journey a pleasure. The best part? We will be there to support you every step of the way with our community, fitting help and troubleshooting guides.