Celebrating children's literacy and Book Week!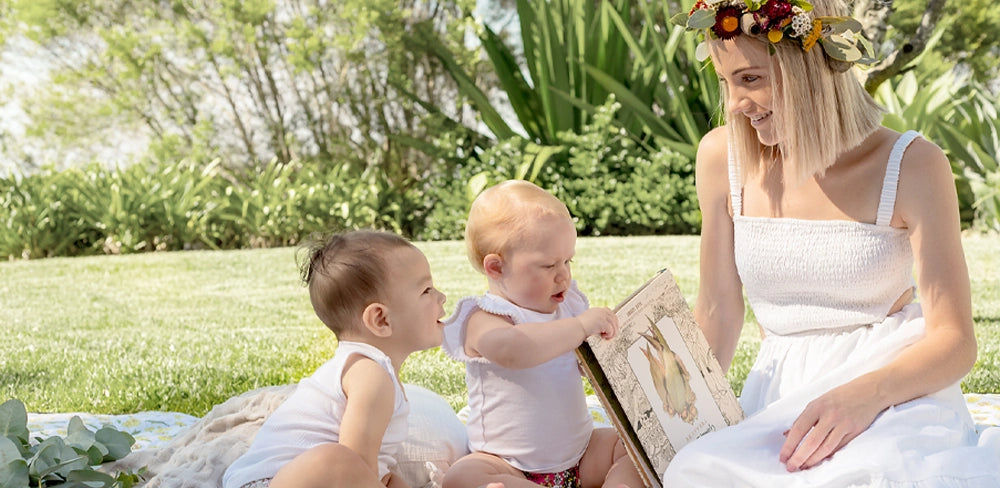 Two of our recent releases have centred around some iconic books and Illustrations that are much loved by our DB team and their families. As parents ourselves we love that books are a gateway to another world and are instrumental in teaching our little ones to use language with confidence. Communication and language skills can be developed through fostering their imaginations and the regular participation in story time. 
Keep reading to find out why literacy is important, how you grow your little ones' literacy skills, and how you can use our book inspired collections to help!
Why is reading and literacy important
Literacy defines our ability to communicate effectively with and to make sense of the world around us. It encapsulates our ability to read, write, listen, and speak. Based on this you can see how literacy development can contribute to your child's overall development. It provides them with the skills to excel in school, assists in problem solving, decision making, social relationships, and one day will contribute to their future studies, relationships, and professional development.
After we learn to speak, the next challenge is learning to read. Reading and storytelling play a huge part in developing cognitive function, language, and literacy skills in addition to helping children to build positive relationships with expression. Reading helps inspire our little ones and to spark their imaginations and is a key form of communication that they will use throughout their lives. When we first enter the world, sound, touch, and a sense of colour are some of the first things we perceive and through the telling of stories to and with our children we can connect, bond, and build the foundations of learning and expression. Our colourful artist designed products at Designer Bums can help to stimulate your child's brain and imagination. 
Literacy in early childhood
Literacy in the early years can take many forms but doesn't have to be hard work. Storytime at the library or at home, simple rhymes, singing, actions, drawing, audiobooks, writing and other props all contribute to literacy growth. Hand puppets, funny voices, story inspired toys, and other home decor such as a Blanket or Play Mat can also help to bring stories and favourite characters to life with colour and fun. Even games of eye spy can form a part of their literacy growth and simple games of sound, rhyme, and repetition bring a sense of fun and enjoyment to the process. 
Everyday activities can also form a part of literacy growth and you might be surprised to learn that even 5 minutes a day is beneficial for learning. Time spent talking with family over dinner or bathtime, writing a shopping list, discussing favourite book characters, copying words from a book, and more, can be all the stimulus needed. 
Building a creative space for learning
Building a space that inspires can involve filling it with objects that spark interest and inspiration. 

Making the space comfortable and inviting. 

And finally ensuring that the space is filled with stimulating colours and objects. 
Our top picks for your learning space are:
Our Play Mats are a generous 150 cm in diameter and make the perfect mat for under a bedroom tent, table, or open space for playing on. Lightly padded they all feature one soft side covered with bamboo velour and a water resistant side featuring our artist designed prints. Your little one will love picking out their favorite characters and features on these gorgeous mats. Easily washable, they are perfect for your play space.

Snuggle up with one of our organic cotton Blankets. Coming in 3 sizes the Baby Blanket and Single Blanket sizes are perfect for cuddling under while reading a book and just like our Play Mats they feature some of your little ones favourite characters! If you need a bit more blanket to go around, our Large Blankets are the perfect choice. 
The perfect library bag! Our water resistant Tote Bags are ideal for your trips to the library. They have 2 zippable pockets for your valuables and are water resistant and washable making it multi-functional. If the Tote Bag is a little big or if you want aa mini and me matching bag set you might want to check out our Wet Bag Collection. They can be worn as little backpacks using the convertible straps!
Tell me more about Designer Bums book inspired collections
May Gibbs is one of Australia's most treasured illustrators, artists, and children's authors. Synonymous with the Australian Bush, her designs depict the inquisitive little Gumnut Babies amongst the gorgeous native flora. Her impressively popular book, Snugglepot and Cuddlepie, has never been out of print since its launch in 1918.
Enjoy the spellbinding and whimsical tales by best selling author Julia Donaldson and best selling illustrator Axel Scheffler in our range of premium and award winning products and the first time featured on reusable nappies! The Gruffalo is a children's favorite around the world and has sold 17.7million copies alone. 
Shop the May Gibbs Collection or The Gruffalo and Other Stories Collections and fill your space with our Book Inspired illustrations.