Are Reusable Sanitary Pads Worth it?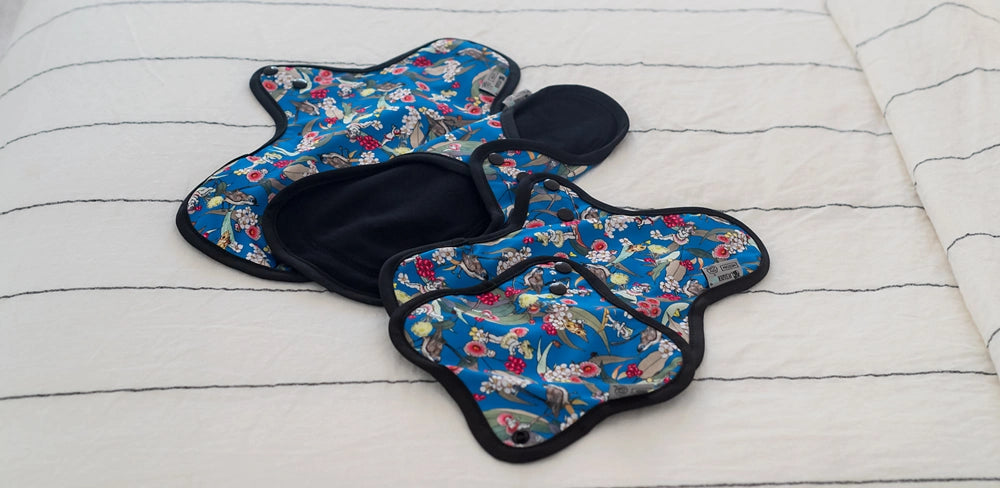 Are Reusable Sanitary Pads better than disposable options? 
Reusable Sanitary Pads are definitely worth it when it comes to comfort, waste reduction, as well as cost savings. They are a low-tox option for periods, light bladder leakage, sweat control, and maternity use. 
Using Reusable Pads can help you to reduce your household waste and reduce the amount of plastics you are sending off to landfill. One pad contains as much plastic as four grocery bags! Reusable pads on the other hand will last you years and are made with recyclable, biodegradable and compostable materials for when you're ready for new ones.
If you have never considered a switch before then we recommend starting with an option that is equivalent to what you already use. This makes it easier to compare the benefits of switching and then you might feel like exploring other options after that. If you use tampons you might be more inclined to try a cup as your first foray into the reusable world, and for those using pads we have you covered with Designer Bums Reusable Pads. 
Why Choose a Reusable Pad over disposable options?
Our vaginal tissue is one of the most permeable tissues in our body and has a direct route to our reproductive organs. Putting thought into what substances come into contact with this tissue is an important consideration in order to  minimize exposure to harmful chemicals and to promote overall bodily health. Single use products contain plastics which limit airflow and promote a warm environment that is ideal for bacteria and yeast growth. Reusable sanitary products interestingly are also not regulated by the Therapeutic Goods Administration here in Australia and so this can lead to inconsistency and a lack of transparency in materials used for products.
Designer Bums Cloth Pads are manufactured to OEKO-TEX standard 100 and use organic GOTS-certified cotton to ensure that your products are free from harmful chemicals and breathable and safe to use against your sensitive skin. They have the added benefit of lasting for many years to come if cared for well so will reduce your grocery bill and household waste!

Why are Maternity Cloth Pads a hospital bag essential?
Maternity Pads are considered a hospital bag essential and you will need them well beyond your hospital stay making them an expensive addition to your maternity journey. When we prepare to meet our bundle of joy one of the things we begin to think about is what to pack in our Hospital bag. Looking for lists of what other people recommend or receiving one from our Hospital is often the first step in this journey and inevitably we will see several packs of Maternity Sanitary Pads listed on there (if it's not on there you need to add it!). 
Many of us consider the benefits of Reusable Nappies for our babies but won't necessarily consider reusable products for ourselves unless we are already a user. And even then we sometimes don't consider it. Why? Think about it, your nether region will be going through a lot and to recover well, you should only use the most natural and organic against your skin.
Designer Bums Reusable Sanitary pads can help you to manage your postpartum bleeding. They provide ultimate coverage and protection with extra comfort and softness but without all of the nasties such as toxins, dyes and synthetic fragrances that you find in single use products. You will instantly feel the difference on your body with a cloth pad switch during your recovery after childbirth. The cotton soft layer against your skin makes them breathable, comfortable, and super absorbent and is something that you just can't get from single use, plastic filled disposables.
Further Reading: