Top 10 Accessories for Book Week Costumes in 2023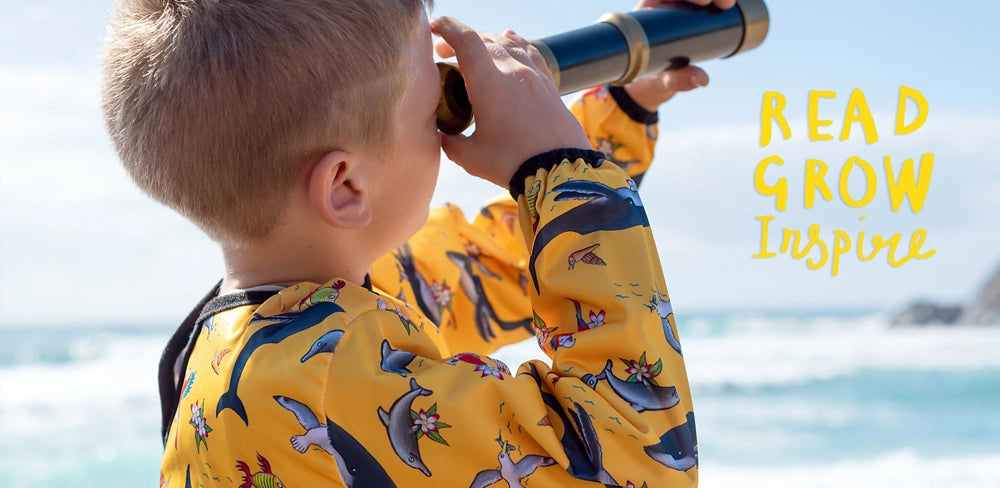 With Book Week 2023 unfolding between the 19th and 25th of August, parents are searching high and low for the perfect costume ideas for their children. From the heartwarming adventures of Snugglepot and Cuddlepie, brought to life by Australia's treasured illustrator, May Gibbs, to the spellbinding narratives of Julia Donaldson and the mesmerising illustrations of Axel Scheffler in the Gruffalo, these are a testament to the timeless allure of storytelling. 
As Book Week 2023 approaches, it's not just about finding the perfect costume but also about accessorising it to perfection. We unveil the top 10 accessories that will flawlessly complement your children's Book Week costume, ensuring your children are not just dressed for the part but living it.  
The Perfect Accessories for Any Costume 
Smocks 
Let your kid rock a smock for Book Week 2023. If your little one is the kind that pets strays, feeds birds, and offers their fingers for butterflies to perch, nothing would suit them better than an animal smock. Throw it over their clothes when they are eating, painting, or engaging in messy play, and pay homage to Australia's one-of-a-kind zoology through your Book Week costumes as you walk around with hand-illustrated kangaroos, platypuses, koalas, kookaburras, bandicoots, and more. Australian animal names are as distinctive as their appearances. A playful smock with charming animal prints is not just clothing; it's a gateway to sparking young imaginations. You could teach your kid the names of the creatures on our May Gibbs Animals Smock and watch them excitedly showcase their newfound expertise as little champions of Australian fauna. Explore our complete collection of accessories here. 
2) The Gruffalo and Mouse Smock 
If you have a kid who's as quiet as a mouse or one with a delicate personality, our Gruffalo and Mouse Smock will be the perfect fit. This beautiful smock features the brown toothy Gruffalo, the long-tailed Mouse, fluttering butterflies, an abundant sprinkling of purple and orange flowers, and delicate leaves on a white background. This smock looks and feels so fresh that you can almost smell the green of the leaves and the fragrance of the flowers. Your child can wear it while doing any fun and engaging activity such as painting, crafting, or messy play. Explore our complete collection of accessories here. 
3) May Gibbs Blossom Parrot Smock
Book week dress up can tell you oodles about a child. Chirpy children are an amusing lot. Our May Gibbs Blossom Parrot Smock is for the little bundles of sunshine who seem to catch a chorus of cheerful birds in their laughter, whose giggles fill the air with infectious energy, whose eyes dance with mischief, as if sharing a secret joke with the world. It's like having a pocket-sized burst of happiness always at hand. While wearing our smocks, your kids can unleash their creativity while engaging in hands-on activities without worrying about making a mess. Explore our complete collection of accessories here. 
Tote Bags 
4) The Gruffalo Feeling Brave Tote Bag  
Admit it, you never really thought of a tote bag as part of your kid's book week costume until now, did you? The Gruffalo Feeling Brave Tote Bag, with its delicate posies and animal tracks, can work as a standalone accessory or unify a theme, like The Gruffalo. Book week is incomplete without book fairs. If your child is a book lover, they will need somewhere to keep their treasures until they get home. Two large compartments will offer ample space for a haul. You won't have to worry about the bag bursting with the weight of the books because the base has gussets. If a spell of rain falls unannounced, you might go home drenched and dripping, but, thanks to the double layer of polyurethane laminate, your books will reach dry. Explore our complete collection of accessories here. 
5) The Gruffalo Snail Adventure Tote Bag 
This cheerful Tuscany yellow tote bag brings together the creatures of the sky, the land, and the water. Snail's Adventure from our Gruffalo range is apt for kiddos who embrace life at their own pace, finding joy in the unhurried journey, who seem to understand—and teach us—in their own little way that life's most precious moments unfold when we allow ourselves to pause, observe, and appreciate. Imagine your child proudly carrying this whimsical accessory, a tangible expression of their outlook on life—a delightful blend of serenity, curiosity, and the pure joy of taking each step with purpose. Let this tote be a playful companion for your little one during Book Week 2023, as they navigate the world in their own time, leaving a trail of wonder and happiness wherever they go. Explore our complete collection of accessories here. 
Cosy Campers 
6) May Gibbs Wattle Babies Cosy Camper 
Book week costumes are more than just dress-up; you can pull together a getup that honours the homeland. Designed for children who carry a piece of Australia's history in their hearts, this heartfelt cosy camper is a tribute to their love for the country and its enduring spirit. The wattle, a symbol of unity and strength, does not perish in bushfires, embodying the steadfastness of Aussies. Let your little one's sense of patriotism and connection to their homeland bloom alongside the wattle on this meaningful May Gibbs Wattle Babies Cosy Camper. With each step, they will honour Australia's past, present, and future, becoming ambassadors of its legacy. Explore our complete collection of accessories here. 
Bibs 
7) May Gibbs Big Floral Mother Bib
If there's something for the animal whisperers, there has got to be something for the plant enthusiasts, too, right? We've got the flower lovers covered. The May Gibbs Big Floral Mother Bib bears eye-catching illustrations of anthropomorphised flower parts that look cherubic, elfin, and fairylike at once. Bibs aren't getups by themselves, but this one can amp up your kid's book week costume when they whip it out during lunch hour and close it around their necks. Explore our complete collection of accessories here. 
8) The Gruffalo Iggety Ziggety Bib 
This Book Week 2023, step into a world of enchantment with our whimsical Iggety Ziggety Bib from our Gruffalo collection. A charming witch in a long braid waves her star-tipped wand, accompanied by a curious toad and a mischievous striped ginger cat. With its creatures and scattered leaves, this bib captures the essence of magic and mystery. Every time your bub fastens it, they are putting on a touch of spellbinding wonder—a portal to a place where imagination is boundless. They become the keepers of the fantastical 'Iggety Ziggety Zoo' formula, weaving their own tales of magic and adventure. Explore our complete collection of accessories here. 
Amidst a delightful forest scene, cute talking mushrooms share secrets, while koalas find cosy perches. Acorns nestle beneath, as butterflies flutter joyfully and forest creatures ingeniously turn mushrooms into baskets and umbrellas. With every mealtime adventure, our May Gibbs Mushrooming Bib transports your child into a magical woodland where imagination takes flight. Let them dine alongside these curious companions and turn mealtime into a captivating journey. Explore our complete collection of accessories here. 
Plush Toys 
10) The Gruffalo Owl Plush Toy
Book week costumes could get an extra layer of intrigue with a plushie. Augment the joy of storytelling and play with the Owl Plush Toy from our Gruffalo range, a cuddly companion who is the perfect sidekick. With its wise eyes and soft embrace, the loveable owl can make your child feel like a wizard or a forest explorer. Explore our complete collection of accessories here. 
Why Is Book Week 2023 Important? 
Book Week 2023 is not just another event on the calendar; it's a celebration of literature, creativity, and the boundless world of imagination. As parents, guardians, or educators, taking your kids to Book Week is an investment in their future, and here's why: 
Sparking a Love for Reading:

At the heart of Book Week is the mission to ignite a passion for reading. When children are exposed to a variety of books and authors in a festive environment, they are more likely to associate reading with fun and excitement. This early positive association can lead to a lifelong love for reading.

 

Educational Benefits:

Numerous studies have shown that children who read regularly perform better academically. Reading enhances vocabulary, improves concentration, and stimulates brain development. It also fosters critical thinking and comprehension skills, which are invaluable in every academic subject.

 

Emotional and Social Development:

Books allow children to explore different emotions, situations, and cultures. This not only broadens their horizons but also helps them develop empathy and understanding. Interacting with peers during Book Week can also boost their social skills and confidence.

 

Unleashing Creativity:

Book Week often includes storytelling sessions, workshops, and interactive activities. These engagements encourage kids to think outside the box, imagine new worlds, and even pen down their own stories.

 

Reducing Screen Time:

In an age dominated by screens, Book Week offers a refreshing break. It's an opportunity for kids to engage with tangible books, listen to authors, and participate in real-world activities, reducing their dependence on electronic devices.

 

Family Bonding:

Book Week is a family event. It's a time when parents and children can bond over shared stories, discover new books together, and engage in discussions. This shared experience can strengthen family ties and create lasting memories.

 

Lifelong Skills:

A love for reading is not just about academic success; it's about preparing children for life. Readers are more informed, can communicate better, and have a broader perspective on the world. These are skills that will benefit them in every phase of life.

 
Book Week costumes do not have to stress you out. It's all about discovering the magical combo of clothing and accessories that make you go, 'Yes, I've found it!' Bring out your children's adoration and fondness for Aussie children's literature with our spellbinding May Gibbs and Gruffalo products. Let their imaginations run wild and Book Week 2023 be an absolute blast!