Reducing household waste with Designer Bums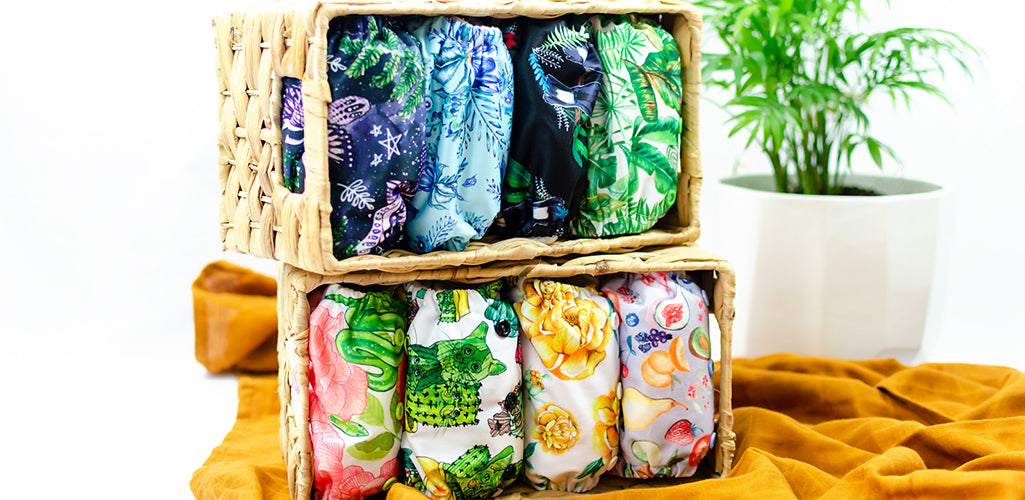 Waste. At Designer Bums Modern Cloth Nappies, we have your back while you work out whether waste is an unavoidable part of modern life, or completely avoidable by changing our mindset and actions. You can definitely live at either end of this continuum, or start a journey changing one element at a time until you find a balance that works for your family.
Having children will introduce you to levels of waste that you have never experienced before. From furniture, toys and clothing that only last a short season of your child's life, to convenience items marketed cleverly to make us think that we need them, childhood can be taxing on the environment. There are steps that you can take to reduce the load, just by making some clever switches to your routine and using a little imagination.
The flagship product at Designer Bums, we do cloth nappies differently with seasonal releases offering beautiful designs to inspire you on your path to less waste. Comprising of a sturdy cover constructed from polyurethane laminate (PUL) and ultra thirsty bamboo inserts, Designer Bums nappies will give your family years of reliable service. Our exclusive artist prints offer a fashionable and beautiful alternative to the single-use nappies created from polymers and paper. You will also go through less clothing as the quality elastics that encase the cover, help keep messes inside the nappy where they are easier to deal with. Even if you only use one Designer Bums Modern Cloth Nappy per day, that's 365 disposable nappies a year that you are keeping out of landfill but to be honest, it's easier to use cloth when you have a full load to wash every few days.
A necessity for most breastfeeding mothers, the disposable option is constructed similarly to a disposable nappy and when you see how many you go through, it will shock you. With Designer Bums nursing pads, you get the comfort of our premium bamboo fleece for absorbency and comfort. A PUL backing decorated with your choice of our seasonal prints adds style and indulgence just for mum. Cut to give great coverage whilst staying discrete, you can be sure that the construction of our nursing pads won't give you tell tale lumps and bumps or exposed edges peaking out.
With disposable nappies you will find disposable plastic bags. Imagine, in 500 years time, when archaeological digs find modern tips. They will wonder at the discovery of billions of plastic parcels preserving baby waste. "Why did they save this?". A Designer Bums wet bag makes transporting dirty nappies easy. Just roll the used nappy up and take care of it at home. We guarantee you will find a myriad of uses for these clever bags around the home, car and gym, so we make them in a range of sizes to suit the needs of a wide range of families. They are constructed out of our sturdy PUL and also boast our inspiring designs, so you won't be shy to show them off.
Now, you may already have some washable bibs and smocks in your house but make sure you discover the benefits of Designer Bums bibs and smocks. Disposable bibs are less common in the waste heavy world of babies, but they do exist. Designer Bums takes the opportunity to add fun to this necessary item of baby attire, with our exclusive artist prints. Ensuring that coordinating colours complement feeding and other messy times, our smocks and bibs are designed for a wide range of ages and are constructed with the same quality PUL fabric as our nappies and wet bags. This ensures that spills and accidents stay well away from clothing, unlike other bibs and smocks where messes soak straight through.
Made from 100% organic cotton our market bags are a beautiful and practical alternative to single use plastic bags. Whether you're visiting a local farmers market, or picking up a few groceries mid-week, our bags are an attractive and useful addition to take with you on any outing. Made from sustainable materials and with ethical manufacturing practices, you can be sure that choosing to use our cotton market bags is the right choice for the environment in more ways than one.
Best of all, they fold up nice and small making them a convenient addition to your glove box or handbag so you can always keep your reusable alternative close at hand!
Rounding out Designer Bums' environmentally friendly range, is something for the whole family. Our stainless steel straws help you protect your teeth from acidic and sugary beverages, amidst the current call to ban plastic straws. There is no doubt that straws create havoc in the environment, even when the end user disposes them of carefully. With a stainless steel straw in a PUL pouch, you have a clean, sanitary option in your bag, which helps you to avoid the situations where someone hands you an unprotected straw or even worse, you accept a plastic straw wrapped in another layer of plastic.
Available in a range of colours and etched with the Designer Bums logo, you can stand out or blend in. Choose a pouch design that reflects you personality and always be ready to join in with the drink of your choice. Don't forget a straw cleaning brush to ensure that the inside of your straw remains clean and ready to go for the next time.
Designer Bums helps you make one change at a time
As you can see, it doesn't have to be all or nothing in the war on waste. Designer Bums Modern Cloth Nappies have plenty on offer to help you make good choices when it comes to lowering the environmental impact of your family. You can feel good about your choices whilst still enjoying life. One good deed done by one person, does make a difference.