Essential Summer Items for Aussie Parents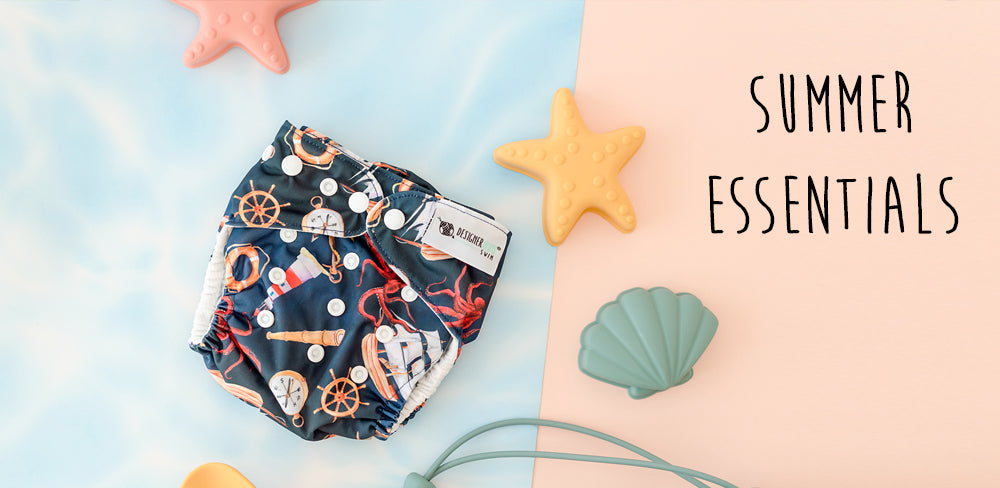 There's one thing that Australians have in common and it's that we love to get out and about during the summer months, if not all year! Some of us go out into the sun more prepared than others. Making sure that you have your Summertime Essentials ready means that you can maximise your time in the sun and are always prepared for new adventures.
Cover up
Covering as much skin as possible with a hat and light clothing to protect your skin
Slip slop Slap
Select a sunscreen that is SPF30 or higher and is suitable for your activity
Throw on some sunglasses 
To reduce UV exposure to your eyes
The team at Designer Bums have put together some of our essential summer items for Aussie parents just in time to get you out the door and into the sun:
Designer Bums Premium Play Mats
Whether it be in our own backyard, the park, or down to the beach it is important to have something to sit and relax on. This becomes even more important when we have little ones with us. And because of this the Designer Bums Play Mats are a must have item for your nappy bag or even just to keep stored in the car for those unplanned excursions. 
Because the Designer Bums Play Mats are topped with water-resistant PUL you can wipe up any spills and flick off sand or grass easily before taking home to wash. Because of their generous size they are a handy lightweight travel companion. When you have your Play Mat with you, you have an instant picnic blanket. The luscious bamboo velour underside also makes it a convenient lap blanket for those days that turn into chilly evenings when you are still out and about. They are fully washable in your machine making them a practical addition to your excursion list.
Water-play Essentials 
A good Swim Nappy is essential for any child who is yet to toilet train. They help to trap accidents and allow you time to get out of the pool. Look no further though, Designer Bums Reusable Swim nappies are a Gold award winning Swim Nappy! Designed to grow with your little one they are a 'one size fits most' and will snap down small for tiny babies and expand up for toddlers to fit like undies. We love knowing that you won't need to buy multiple sizes as your little one changes shape and size. You also won't get caught out by any growth spurts!
Many of us worry about the UV rays on our little ones skin so choosing the right swimwear is essential. REPREVE is chlorine-proof and offers high UV protection (UFP 50+). The material is breathable, soft, and comfortable against your little one's skin and still provides the feel and stretch you are used to from traditional swimwear. The swimwear range comes in three different styles with sizes from 6 months up to 6 years so there is something for everyone! 
Picnic Essentials 
An increasing number of families are making a conscious decision to reduce their reliance on single use plastics. So switching out things like disposable cutlery for reusable cutlery is one of the simplest ways we can do this. It does require a little bit of pre planning so that you have your cutlery available when you need it. 
At DB HQ we can't get enough of our handy Straw Pouches which we use for cutlery, straws, chopsticks and more. Stashing a few in your bag, picnic set, and car can ensure you are always prepared. (They also make great toothbrush holders for travel!)
For families who love to spend a lot of time outdoors a generous picnic blanket is a must. The Designer Bums Premium Picnic Rugs are adapted from the Play Mat range and provide a gorgeous large sized mat for your outdoor excursions. Topped with PUL and backed with luxurious black bamboo velour these mats are durable for outdoor use and can be thrown into the washing machine when needed. At  2.5m x 1.48m they are generously sized to fit the whole family so that they are really functional. 
Further Reading
If you enjoyed this article you might also be interested in reading about How you can reduce waste and save money with Designer Bums.