How to care for your Night Nappies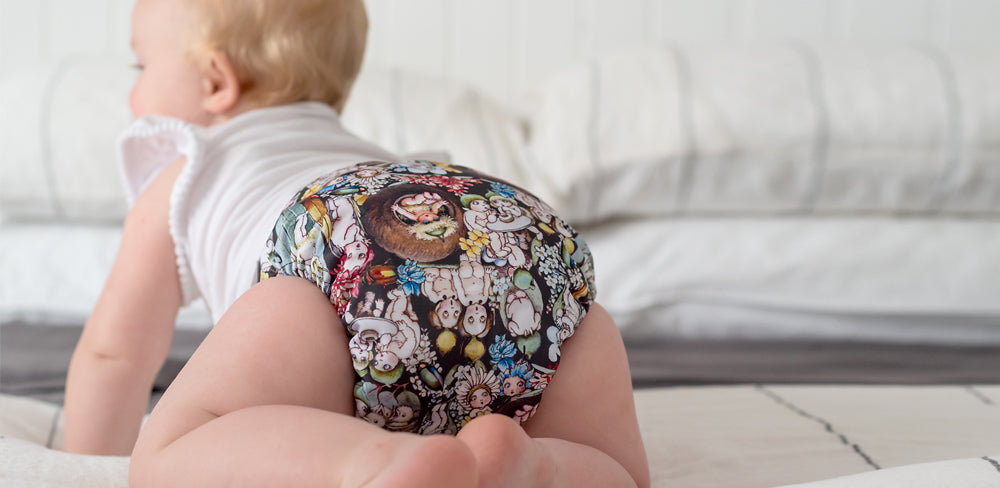 You might have heard that Night Nappies require a little more care than those used during the day. Don't let this put you off trying Nappies overnight. Many families find that Night Nappies hold more than disposable options, and are gentler on their little ones skin. Our Large Nappies are a popular option for night time use and there is no additional cover necessary. Nappies used overnight do need to be washed slightly differently, and we are here to talk you through it. 
Why can't you put a day Nappy on at night time?
Technically you can put any Nappy on overnight and don't need to use a specific Night Nappy. The thing you do need to be mindful of is how long you are going to leave it on the bum before changing it. Nappies used overnight will be on the bum longer than they would be during the day so will need a-lot more absorbency as well as a little more care to remove the level of soiling. In order to provide this absorbency you will need more room in the nappy shell than usual for extra inserts.  
And that's where the Designer Bums Large Nappies come in handy. They are a larger sized Nappy built for extended toilet trainers, but can also be used by smaller children when snapped down or boosted. The snaps on the front allow you to make the shell larger and smaller depending on your child, and you can boost the inside of the nappy with additional inserts to tailor the level of absorbency to your child.
Why it is important to rinse a Night Nappy 
Any nappy that has been on the bum for longer than 4 hours, whether it is a night or day nappy, needs to be rinsed to lower the urine load in it. The more urine in the nappy, the faster the conversion to ammonia. Ammonia can cause degradation to your nappy while it waits to be washed and in cases where people's wash routines do not remove all of the ammonia it poses a risk of rashes and ammonia burns to your little one as well as smelly nappies. 
How do you wash a Night Nappy
You can rinse out your Night Nappy either placing it onto a 60 minute hot/warm machine cycle with a small amount of detergent or by hand. If rinsing by hand you can use a small amount of detergent in a bucket of hot water. Allow the inserts to sit for several minutes up to 30 mins maximum and then rinse under a running tap. Wring/spin out to remove as much water as possible and place the Nappy into your dry pail. 
Some families like to reduce their water usage by doing it in combination with their morning shower.
Please note that we do not recommend extended soaking as this will degrade your nappies.
Check out the beautiful range of Large Nappies for more details on size, fit, and value packs.
Further Reading: 
If you enjoyed this article you may also want to check out A Beginners Guide to Reusable Nappies where we talk about how many Nappies you need for your stash, how to wash your Cloth Nappies, and how to construct your Cloth Nappies.
Or our article New to Cloth or thinking about converting, where we talk about how often you  change nappies, cost considerations with water and power, and nappy rash.
If you are new to exploring Cloth Nappies as an option for your family you might want to check out our Value packs. Value packs are a great way to build your collection and get your hands on our Gold Award Winning Nappies.