Everything you need to know about Reusable Swim Nappies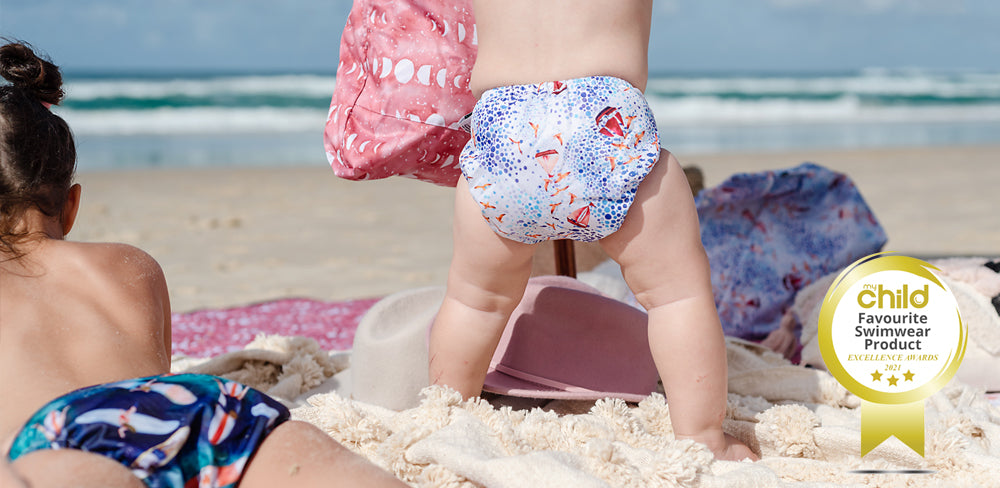 Our Reusable Swim Nappies are the only Swim Nappy you will ever need for your little one as they can be adjusted for their body as they age. Using the snaps on the front of the nappy you can shorten the length, and using the waist snaps you can adjust for newborns by overlapping the wings, or widening the snaps for toddlers so that they sit like undies.
Swim nappies are a staple item for our little ones anytime they participate in swimming, beach, or pool play. These are one of our most requested products and come in all of the beautiful hand illustrated designs that you know and love. Choosing a Reusable Swim Nappy can be a great way to save on costs as well as benefiting the environment, as it prevents a number of nappies from going to landfill and prevents the need to keep spending money on new sizes.
When is a Swim Nappy needed?

Any child who wears nappies normally should be wearing a swim nappy at the pool or beach. Swim Nappies are important from a hygiene perspective as they prevent 'code brown' incidents as they give you time get out of the pool. The double elastic gusset featured on all of the Reusable Swim Nappies will give you extra confidence when swimming with your little one.
How do Designer Bums Reusable Swim Nappies differ from Single Use Nappies?
If this is your first time learning about swim nappies you may be surprised to hear that they are designed to trap number 2's but allow urine to pass through freely. All swim nappies lack the layers of absorbency found in their counterparts designed for daily use. Because they will be worn in the water, it is essential that swim nappies do not have any absorbent parts. Pause for a second and think about what would happen if you tried to go into the pool with an absorbent Nappy. A well fitted swim nappy will catch number 2's and give you time to quickly get out of the pool to attend to it.
Our Reusable Swim Nappies are lined with quick-drying athletic wicking jersey to provide softness against your little one's skin and give optimal comfort without the use of any harsh chemicals that may cause irritation or leach into the water. The lining used in our Swim Nappies has ultra fine holes in it to prevent any snagging or catching and to allow water to pass freely through the nappy so that your little one isn't weighed down in the water and can move about freely.
Benefits of Reusable Swim Nappies
Reusable Swim Nappies are an economical, low tox option for the beach, pool, and water play. Unlike their single use counterparts, our Swim Nappies have the benefit of being one size fits most. That means they are designed for children from 3.5kg up to 15kg so are a versatile choice as they will grow with your little one and won't need to be replaced, saving you money and reducing waste. 
The majority of swim facilities will require the pool to be cleared and cleaned if number 2's enter the water so it is important to have confidence in your nappy choice. Our Swim nappies give you the benefit of being adjustable both at the waist as well as the overall size of the nappy using the rise snaps along the front. Because they snap open and closed at the sides they are easy to get off without spreading any mess if an accident does happen. This makes them easier to get off than a pull up style of nappy and is one of the reasons that we designed them this way.
Being able to adjust the size to your little one means you can get the perfect fit and won't have to worry about any "code browns" in the pool. Our customers consistently tell us that they find our Swim Nappies more effective at containing number 2 incidents than disposable options. This adjustability is also why your Designer Bums Swim Nappies will last you through to toilet training in the majority of cases. 
Designer Bums Swim Nappies are lightweight so are perfect for little people experiencing water for the first time and learning to swim. 
Find out more and shop the range here: https://designerbums.com.au/collections/swim-nappies 
Further Reading: 
If you  enjoyed this article you may also want to check out A Beginners Guide to Reusable Nappies where we talk about how many Nappies you need for your stash, how to wash your Cloth Nappies, and how to construct your Cloth Nappies.
Or our article New to Cloth or Thinking About Converting, where we talk about how often you change nappies, cost considerations with water and power, and nappy rash.