The Designer Bums Story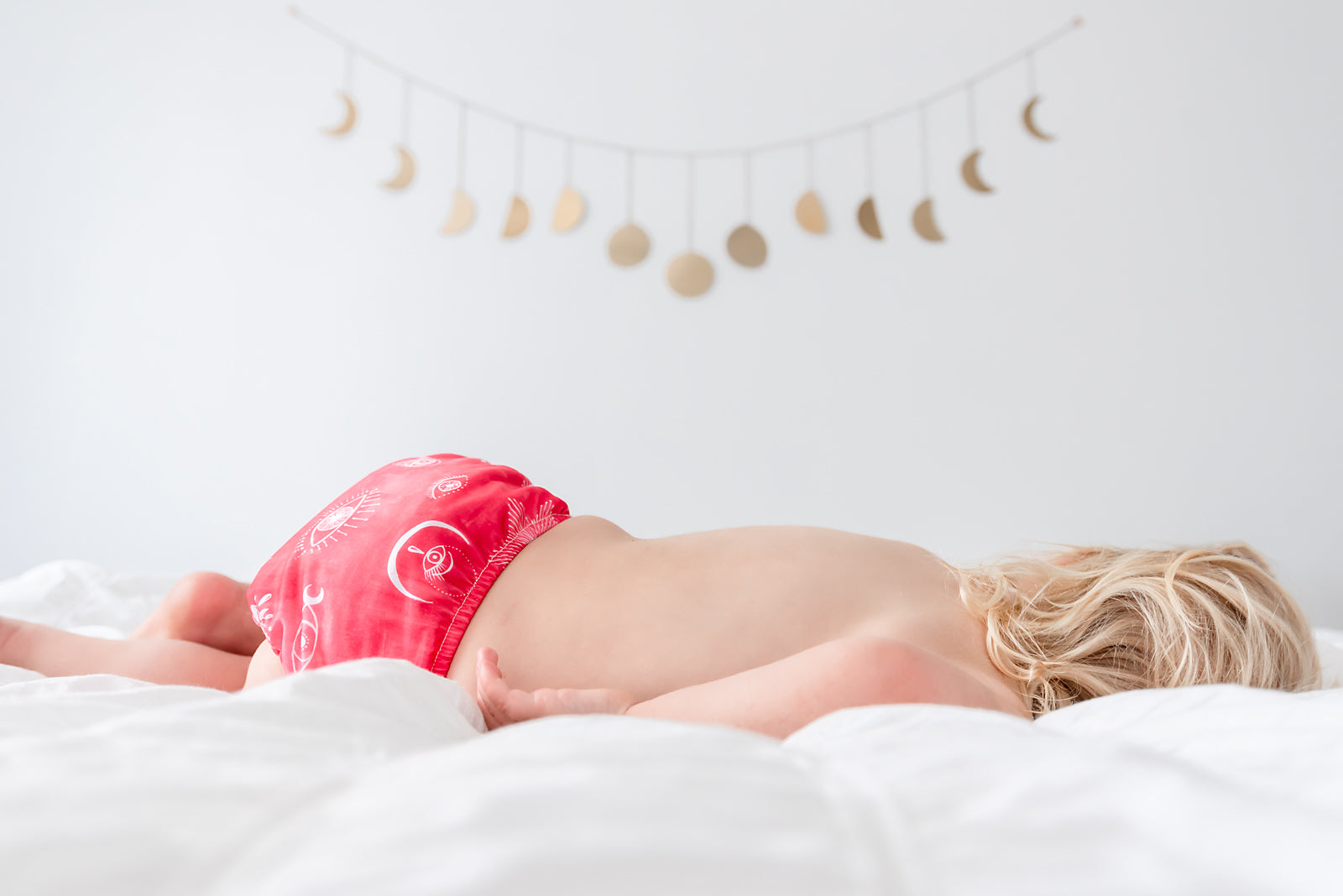 It started with a chance meeting.
With a bed-ridden husband after major surgery, Carla almost didn't attend her next-door neighbour's 40th birthday. It was there that she met a young woman who owned a small but very popular cloth nappy business that was born with the nappies being hand-sewn in her Melbourne home. The nappies were incredibly popular due to their trim design and unique designer fabrics that covered the nappy outer. The fabric was imported from design houses in America and was unlike anything available at the time, hence the name Designer Bums. As the demand grew, she turned to a New Zealand manufacturer, and then eventually settled on a small, ethical family-owned factory in China. Although Carla didn't know it, this meeting would be the beginning of an exciting journey.

A year or so later, and a first baby born for both of them, Carla saw her new acquaintance was having a closing down sale on her cloth nappy business due to family reasons and that it had been dormant for close to a year, so on a whim, she reached out asking if she could buy the business. After years spent working in fashion retail, product development, marketing, and most recently HR, she was ready to start a new path that utilised her skills, one that satisfied her interest in art, textiles and the environment. Now that she was a mother, Carla really saw the waste that having babies can make and it was also an opportunity to spend more time at home with her baby while doing something positive for the planet. 
After negotiating to purchase the business, Carla found herself right in the deep end of a world she didn't have any experience in. It started with continuing the designer cotton outers and lots of trial and error as she learned the many challenges of manufacturing, importing and exporting particularly offshore and across multiple countries. Carla started choosing prints that were edgier, quirky and more fashion-focussed than the baby ducks and bunny rabbits that were often covering traditional cloth nappies and baby goods. These prints gained huge popularity and launched the beginnings of the modern-day Designer Bums ethos – unique designs for style-conscious parents (seen above).
Through a blur of sleep deprivation, breastfeeding and juggling a baby while working and packing orders well into the night, there were many challenging ups and downs and a long road ahead.
At one point her husband was retrenched while the business was in its infancy, putting a huge financial strain on the little family. There were also times when Carla had to borrow money for groceries from her mother just to make ends meet and she wondered if taking this leap was a huge mistake. 
After learning about the difficulties of cotton outer cloth nappies, Carla began to research the possibility of another material while still having beautiful and unique designs. PUL (polyurethane laminate) was a popular choice on the market and a far more leak-proof than traditional cotton. This came with its own challenge as she was previously able to purchase cotton printed fabrics from fabric houses with so many pre-made options from talented designers, but with PUL, you had to supply your own graphics.
"With challenge, there is always opportunity" 
She started thinking about how she could reinvent the product with her own custom-designed fabrics while keeping it in line with the 'Designer Bums' name, which was focussed on designer cloth nappies. The choice was made to source a new factory and find a skilled artist to execute a few specific ideas Carla had in mind, something that had never been seen before on a cloth nappy such as a babywearing and Australian animal print. 
This process took over 18 months of getting customer feedback, testing many new manufactures and materials from all over the globe, round after round of sampling and re-testing prototypes then making revisions and settling with keeping the signature Designer Bums trim shell shape, but totally re-designing the nappy and insert system to make it an All In Two style with a hybrid pocket and a small snap-in insert in the front waistband plus long anchor-shaped insert making it custom, unique and most importantly, functional.
It was within a babywearing group on Facebook, Carla discovered a young mum in Canada who created lovely babywearing illustrations. Taken with her unique and whimsical style she approached Melissa to create the custom print ideas to put on the new PUL cloth nappies. Melissa coincidentally had a son the exact same age as Carla and during the following year, both were expecting their second sons.
With the first launch of the new hand-illustrated Designer Bums cloth nappies, most things sold out within minutes. Carla was in shock and so excited, after all the hard work to get the new range to market. The timing couldn't have been worse though, with stock majorly delayed and arriving a week before she was due to give birth to her second child. But she soldiered on, packing orders at 4 am in the morning with contractions.

Carla began to add more prints and expanded to more products. She relied on her very enthusiastic customers to get feedback and soon began producing wet bags and smocks – anything to make the eco-parenting journey easier and of course, more fun. From there a beautiful friendship and design collaboration was born with Melissa, who is still the lead Artist at Designer Bums today. Together they explore many themes from nature, magic and fantasy, childhood nostalgia, pop culture, social issues and everything in between but in a galvanising signature-style that has become synonymous for the brand and changed the nappy industry alike as Designer Bums have continued to pioneer the hand-illustrated nappy, being the first in Australia to commission exclusive custom hand-made prints from local and overseas artists. 
Carla is proud to be able to work with such talented artists and provide her customers with unique prints and concepts. She attributes the brand's success to the community that has been built around Designer Bums. Parenting can sometimes be an isolating journey and she has made it her mission to do more than sell eco-products. She has built a community for likeminded people who are on the same journey and can lean on each other for friendship and support, even beyond cloth nappies with many customers catching up socially across the country and even overseas. 
Carla reflects "our customers are simply the best, they are the kindest, enthusiastic and fun-loving group of people. They are a big part of our inspiration and the driving force at the centre of all we do. Many have been cheering us on since the very beginning and I have had the pleasure of watching their families blossom and grow with each new cloth baby"
Even after you've purchased the products, you're still part of the Designer Bums family – supportive, authentic and full of passion. Designer Bums also creates various 'prints for a cause' where proceeds are donated on behalf of their customers to various charities and causes that are important to their community with post-partum mental health as a key area of importance.
The defining legacy that Designer Bums is leaving is to do with the environment. The plastic crisis is real, and people are finally starting to see how their choices are impacting the earth. Carla says "we've grown up with the convenience of single-use products, but at what cost to our home?". She truly believes that her generation can change the world, even if it's just one less disposable nappy at a time. She is committed to the path of educating others without guilt and with products that make it fun to be eco-conscious and bring joy to mundane parenting tasks.
Designer Bums is still all about family. You will normally find Carla sitting at the kitchen table serving her children breakfast or listening to readers, with a batch of fabric samples beside her. In the back of the house, her small team are packing orders with destinations all over the globe. She'll get the kids dressed, do the lunch boxes, school drop off and then come back to reviewing prints for the newest collections, managing customer service, liaising with her various suppliers and all with a toddler underfoot. 

With a keen eye for design and a big vision for the future she has managed to grow Designer Bums into the successful business, it is today, leaving a legacy of saving millions of disposable nappies from landfill and bringing joy to thousands of parents on their eco-journey. There have been plenty of times when she has wondered how to keep juggling the demands of a continuously growing business and a young family, but she has persisted with a clear commitment to our future generations and keeps managing to find the magic in the mayhem