Designer Bums x May Gibbs Collection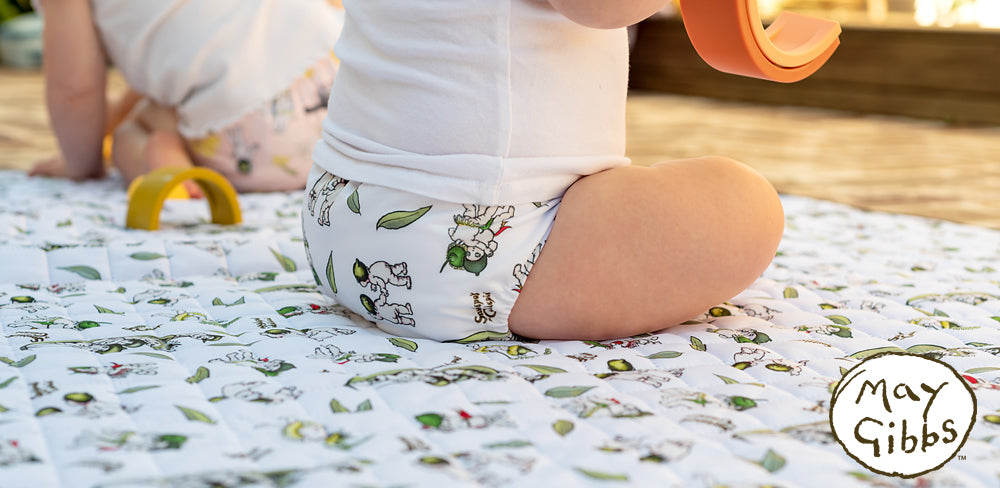 'Humans Please be kind to all bush creatures and don't pull flowers up by the roots'.
We are proud to announce the launch of the Designer Bums x May Gibbs Range. 
The Designer Bums x May Gibbs Range brings together iconic illustrations by May Gibbs across all of your favourite Designer Bums products. Best known for her Snugglepot and Cuddlepie illustrations, May Gibbs is one of Australia's most treasured illustrators, artists, and children's authors. Synonymous with the Australian Bush, her designs depict the inquisitive little Gumnut Babies amongst the gorgeous native flora making this the most perfect collaboration. 
Designer Bums and May Gibbs are a unique partnership in that we both share core values regarding our planet and the Australian environment.
About May Gibbs
Born in 1877 in Kent, United Kingdom, May Gibbs arrived in Australia at the age of four. She drew and painted as a child and went on to study art in Western Australia and in the UK before settling in Sydney as a children's books author and illustrator.    
2016 marked 100 years of May Gibbs' first children's cook Gumnut Babies and 2018 celebrated the Tales of Snugglepot and Cuddlepie centenary. 
The legacy of May Gibbs lives on. Through her foresight and generosity, proceeds from the sale of May Gibbs products have supported thousands of Australian children living with disability and their families. Proceeds from the sale of all May Gibbs products proudly support Northcott and Cerebral Palsy Alliance who provide support to thousands of Australian children living with disabilities and their families
About Northcott
For over 85 years, Northcott has provided support and services to children, young people and adults with disability to develop life skills, build confidence and become active participants in their communities. See more at: https://www.northcott.com.au/
About Cerebral Palsy Alliance
Cerebral Palsy Alliance provides family-centered therapies, life skills programs, equipment and support for people living with cerebral palsy and their families and operates from 55 sites throughout metropolitan, regional and rural NSW and the ACT. See more at: https://www.cerebralpalsy.org.au/
Designer Bums are delighted to have the opportunity to showcase the much loved artwork of May Gibbs across our range of eco-friendly baby essentials.
Learn all about the inquisitive little Gumnut Babies who live in the Australian bush. Find out why their eyes are so big and the fun they have with the other Bush Folk in Gumnut Land. The first of the bush babies, the inquisitive Nuts are full of fun and mischief. They love all the Bush Folk, but are a little afraid of lizards and snakes. Mrs Kookaburra is most fond of them as they make her laugh. In the hot sun they hang their heavy heads over the swaying leaves and sleep.
Snugglepot and Cuddlepie are two adventurous little gumnut foster brothers who long to see a Human. Snugglepot, the leader, and the gentle Cuddlepie are good friends with Mr Lizard and Little Ragged Blossom and together go on many heroic adventures.